Holiday Gift Shopping That Benefits Your Community
You make the difference! Your contributions to Richmond Rotary' Holiday Auction raise the money we donate to local schools and community organizations. So join the band: come to the Auction, invite guests, and of course, bid on some of the unusual (even useful) items listed below. Check back to watch the list grow day by day.
We know that every Richmond Rotarian will want to help in the Holiday Auction. Please click the Post my Item button to send us your item's description, which we'll post on this page. Or if you prefer, click the Donate button to make a tax-deductible donation using PayPal. We request a donation of $100 or more. Either way, your generosity is helping to build a better community.
---
Have you joined the band?
We'll put a check next to your name after we receive your donation. Thank you!
100%

Menbere Aklilu


Richard Ambrose


Alan Baer


Shana Bagley


Joe Bagley


Alan Blavins


Janet Brown


David Brown


Erle Brown


Tom Butt


Patricia Canessa


Sidney Chauvin


David Cole


Herbert Cole


Henry Covell


William Dabney


Nick Despota


George Egan


Jerry Feagley


Charles Fender


Oscar Garcia


Joshua Genser


Bruce Harter


Ethan Heinrich


Tyler Hester


Mark Howe


Felix Hunziker


Pamela Jones


Judith Kafka


Bill Koziol


Liliane Koziol


Donald Lau


Jonathan Lawlis


Norman Lundberg


Rafael Madrigal


Doris Mitchell


Henry Moe


Jeffery Mulvihill


Robert Niccolls


Gonzalo Ochoa


Reynolds Partridge


Markku Pelanne


James Richardson


Mey Saechow


Daniel Sanders


EJ Shalaby


Horace Stonework


Tiffany Straus


Stacey Street


Joshua Surowitz


Daniel Tanita


Stanley Teaderman


Connie Tritt


John Troughton


Nico Veran


Tom Waller


John Wilson


Michael Winter


Charles Wong


Jim Young
The Bottle of Muscatel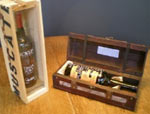 We all know about accrued interest–it just grows and grows with each passing year. This cheap bottle of Muscatel (original retail value around two bucks) has accrued a fundraising value of over $35,000. Each year a member buys the bottle, adding to its accrued value and earning the distinction of having their name(s) added to package. Here's the deal: You can buy it but you cannot—must not—drink it. After purchasing this Holiday Auction tradition, the Bottle of Muscatel waits quietly in your closet, ready to step up to the auction block the following year.
Contractors' Lunch
Erle and Jonathon once again toss down the gauntlet. Can the Club's die-hards outlast one another despite the abuse to which they've subjected their bodies to over the years? Up to 10 people. Minimum bid $200.
Sid's Eggnog
As usual, the best elixir for loosening the bidding propensities and checkbooks of the annual auction participants. It has earned the title of BEST due to the failure of the competition to even show up !!! As anyone can attest, the beverage is priceless.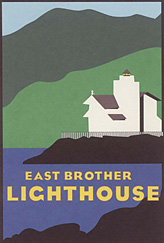 East Brother Lighthouse Dinner, Bed & Breakfast
East Brother Lighthouse, or more accurately a Light Station, is a beautifully restored California Victorian Lighthouse Dinner, Bed & Breakfast Inn perched atop an island in the strait that separates San Francisco and San Pablo Bays.The lighthouse offers the rare combination of both a "lighthouse dinner, bed & breakfast" and an "island dinner, B&B," and is a unique California destination.
Though only a ten-minute boat ride to the island, the lighthouse inn seems to be a world away from the lights of the nearby cities.Guests will also be treated to a full tour of the island, taking in all of the buildings. They'll be regaled with the history of the island and its life as a lighthouse up to the present day. Its value is $415. See www.ebls.org for more information.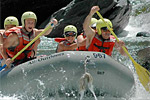 Whitewater rafting trip for 2 people
Ethan Heinrich offers the excitement of a whitewater rafting experience (through
All-Outdoors Whitewater Rafting
). Choose the South Fork American (class 3), the Middle Fork American (class 4), or the Merced (class 4). Accessible to all ages, depending on river choice. Retail value is $360. Specific river and trip information:
South Fork American
,
Middle Fork American
, and the
Merced River
. Good for summer 2016.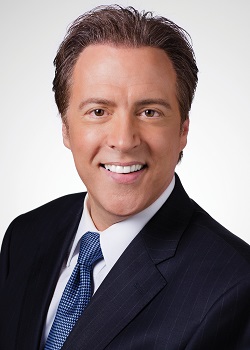 ABC7 News Anchor and recent Rotary speaker Dan Ashley
Dan Ashely will provide a private guided tour of the studios including the newsroom, control room and private offices. Dan will offer delightful anecdotes and introduce guests to the other news anchors! This tour is open to a small number of guests, from 2 to 4, and needs to be mutually arranged with Dan. The guests on last year's tour were captivated. Thanks, Stacey!
A case of Cabernet Sauvignon
If the world's news as served up by ABC is a bit too hard to swallow at times, how about the self-medication offered by Dr. Dan Tanita. The prescription: a case of vintage Cab. Stock up for the holidays!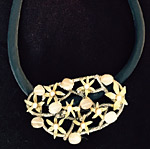 Korean necklace
This beautiful necklace was donated by Ms Youngshin Lee, President of Interactive Education Institute. The Institute's mission is to increase the understanding of Korean culture and education through the arts and cultural education exchange activities. The necklace is a hand-made brooch/necklace created by Atelier Seong. Crafted of quartz, pearl, and other multi-colored stones covered with 18k gold with a silver cord. Thanks you, Lilian, for this and the following contributions.
Lunch for 2 gift certificate
A gift certificate for 2 for a lunch with drinks and desserts at The Junket in El Cerrito.
A smokeless tabletop griller
Want Indonesian saté but don't want to fuel up the backyard bar-b-q? This smokeless tabletop griller to the rescue.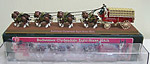 Annheuser Busch Collectible
Whether you are a casual collector or serious hobbyist, you are certain to enjoy your Anheuser-Busch collectible figurine. This quality collectible is hand-crafted of cold cast porcelain by skilled artisans.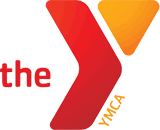 Here's to your Health in 2016
Certificate for 3 month Family Membership (2 adults and children in same household) at the Hilltop Family YMCA. Includes gym bag, water bottles, ear buds, t-shirt, and you are ready to go! $330 value.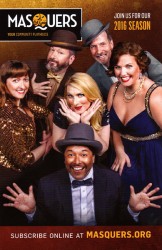 Four tickets to the Masquers Playhouse
Enjoy live theater at the intimate Masquers Playhouse. Tickets are good for all Masquers featured shows or short run Envision productions. The 2016 season includes two spectacular musicals, the powerhouse hit Violet, and
The Drowsy Chaperon
e, which won 5 Emmys. Offerings also include a French Baroque farce,
The Gamester
, a modern classic,
The Elephant Man
, and a contemporary drama,
The Quality of Life
, by Bay Area award-winning playwright Jane Anderson. The value of the tickets is $100. Click image to enlarge.
Four tickets to any 2016 Masquers Playhouse production
The season includes two powerhouse musicals (Violet and the Tony-award winning Drowsy Chaperone), a French Baroque farce (The Gamester), a celebrated modern classic (The Elephant Man), and a poignant drama (The Quality of Life) by celebrated Bay Area playwright Jane Anderson. Enjoy a live production in the intimacy of Pt. Richmond's historic 88-seat theater.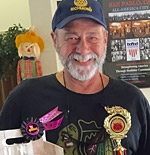 Award-winning Chili
This recipe took home #1 First Place at the San Pablo's Rotary Club event this year. 4-5 quarts of freshly-made "Swampy Joe's" award-winning chili! Minimum Bid $100. Classic beef & pork chili with the usual suspects and a touch of Swampy's magic.
Drinks, tapas, dancing and more
How about a night out at Swirl on the Square in Livermore? You'll sip some wine, eats tapas, and dance to live music! Thanks to Mey Saechao for this $50 gift certificate. More information on Swirl on the Square here.
7-Course Dinner for 8, food by Saluté's and Just Desserts
Jan and Jerry Feagley and Menbere, the owner of Saluté's Restaurant, will host a 7-course dinner with champagne and wine for 8 lucky guests. Desserts will be prepared by John Yves of Galaxy Desserts. The dinner will take place in Jan and Jerry's home, with its beautiful view of the Bay. Click the invitation on the left for a larger image.
Family style Italian dinner for 8
Dinner for 8 on a mutually agreed upon date in Hank and Doreen Covell's home, featuring home made ravioli, both meat and cheese.
Margaritas and Fajitas Party
Stacey and her husband Don will host a special Mexican evening with Top Shelf Margaritas concocted by Don and homemade Mexican fare prepared by Stacey. They will make the "long" journey to Oakland worth it for you with great food, drink and company (and possibly music….)! Up to 8 people can buy in for this special event.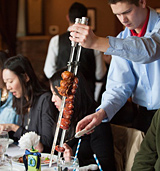 Dinner for Two at Fogo de Chao (Brazilian Steakhouse)
Oscar Garcia offers this exciting and tasty night out: Fogo de Chao is a Brazilian steakhouse that serve a large variety of meets that are cut fresh from skewers, as is customary in southern Brazil. This is a $200 gift certificate that should cover meals and drinks for at least 2 people. Fogo do Chao is located in San Jose and San Francisco. If the winner is interested, Oscar will throw in a Caipirinha making lesson.
Heart-warming spirits
A 750ml bottle of Canadian Club, 12 year old, small batch blended Whiskey. Courtesy of Jim Young.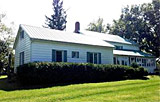 One week stay on the St. Lawrence River in Quebec
Jon Lawlis and Darlene Quenville would like you to go away…to an idyllic farmhouse located one hour west of Montreal, in St. Anicet, Quebec. Note that it is
only available in June or September
. This beautiful 100+ year old farmhouse is situated on 5 acres with historic 200-year-old barns. Located in St. Anicet, Quebec on Lake St. Francis on the St. Lawrence River. Beautiful views and waterfront access. Great for families. Click
here for pictures and full description
.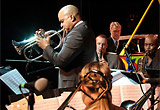 Cal Performances Gift Certificate
Cal Performances are journeys into the world of performing arts in the company of great artists. This year Nick Despota offers a $100 gift certificate for Cal Performances, which can be used for any performance and has no expiration date. Visit the
CalPerformances web site
to view the full schedule.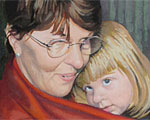 Portrait by artist Alan Blavins
A one-of-a-kind work that you'll appreciate forever: a framed pencil or oil painted portrait of yourself, your family, or you and your grandchildren. Our resident portraitist, Alan Blavins, will create this work from an emotionally charged photograph (high resolution, please). The pencil drawing on the right (click to enlarge) depicts Linda Young and her granddaughter.
Click here or image
to see enlarged drawing and painting.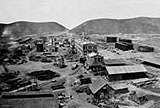 Chevron Refinery and Technology Center Tour
Patty Canessa will provide a private, 2-hour vehicle tour of Chevron's Richmond Refinery & Technology Center for 6 guests. Learn how the refinery continues to play a critical role in the U.S. economy and get an inside look at the Technology Center. After the tour, Patty will host a lunch at the Hotel Mac. All tour participants must present valid, government-issued, photo identification at the time.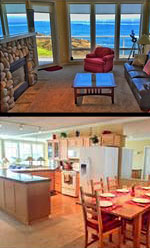 Luxury home on the Oregon coast
E.J. Shalaby offers a luxury oceanfront condominium on the "whale watching capitol" of the Oregon coast. The "Whale Pod" boasts an ocean view, a master bedroom with king size bed, master bath with jetted tub and separate shower, and a second bedroom with queen size bed and full bath. All new bedding, bath towels and new kitchenware. Includes a washer and dryer.The "Whale Pod" is walking distance from downtown Depoe Bay, shops, restaurants and local attractions. Valued at $575.
Stoney's Ribs and Hawaiian Style BBQ
Stoney's BBQ and Hawaiian pupus at Mark & Shana Howe's waterfront retreat. Stoney, Mark, Shana, and Don are hosting their annual BBQ-by-the-bay. Rotarians and guests, booze, BBQ, onolicious Hawaiian grindz, and a beautiful day next to the Bay! What could be better?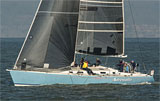 Sail away on a cocktail cruise
Join Mark and Shana Howe on their new (to them) sailboat for a super fun cocktail & appetizer SF Bay cruise. Up to 8 people. This event will be held on a Saturday or Sunday and depart from Richmond.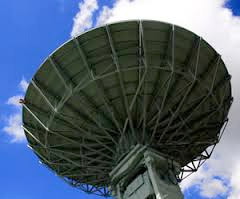 Sail away farther: Berkeley Space Science Lab tour
Peter Harvey will lead a tour of the UC Berkeley Space Sciences Laboratory and its flight instruments. Peter can bring participants—if the group isn't too large—into a "clean room" for a photo with flight equipment. You can also visit the Mission Operations Center where multiple spacecrafts are controlled. Far out!
Painting by famous Korean artist
In addition to the Space Sciences lab tour, Liliane offers this opportunity to explore inner space: a painting by a famous Korean artist.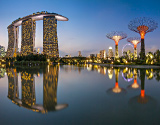 Singapore Treasure Hunt
While visiting his grandkids Jim Young will take the highest bidder on a tour of the exotic pawn shops of Singapore—via the World Wide Web. Many of these shops post their inventories of jewelry, precious metal, and stones on their websites. Jim will visit the shops on behalf of the highest bidder, inspect the item(s) the bidder has chosen from its website, and then phone and/or e-mail his advice about the items. Buy or not to buy? But wait, there's more!
Read about it here
.(Download PDF). Call Jim for details, 235-8443. Our operators are standing by.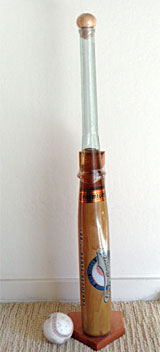 Try a swing with this bat
A full size baseball bat-shaped bottle filled with premium tequila. Three strikes and you're out. (Where did president Alan come up with this one?)
Yes, we have more tequila!
George Egan offers a bottle of high quality tequila in a distinctive collector bottle: a glass cowboy boot. (These boots aren't made for walking.)
And still more tequila tasting!
This popular tasting event is back! Rafael Madrigal offers a selection of premium tequilas, accompanied by delicious foods. Date and location to be announced later.
Landscape Consultation
Retired landscape professional Diane Bloom will assess your site with the goal of converting a thirsty landscape into a drought hearty garden that is aesthetically pleasing. She will offer hardscape design suggestions and plant recommendations. Diane Bloom of Bloom Gardens was a member of the City's Design Review Board for 8 years and created several shows for "Landscape Smart" for the HGTV network. Value of consultation is $100 for one hour, or $200 for 2 hours.
Distinctive Indian Dining
Charlie Fender offers a gift certificate for $100 for Ajanta, Distinctive Indian Cuisine in Berkeley.
Tickets to San Francisco Symphony
Stacey invites you to enjoy an evening out to hear the Grammy Award-Winning San Francisco Symphony perform at Davies Symphony Hall. Details to be determined.
Golf at the Richmond Country Club
Count 'em! Two different offers for foursomes at two different courses. This one is for a foursome at the Richmond Country Club. Thank you, Josh Genser. And…
A Foursome at the Mira Vista Country Club
Top-quality golf and spectacular views of the Bay Area. A perfect activity for you and out-of-town guests. Thank you, Alan Blavins.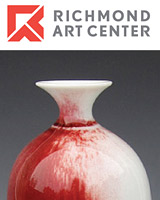 Four tickets to the Holiday Arts Festival Live Auction
The Richmond Art Center's Holiday Arts Festival, a longtime community tradition, returns on Saturday, December 5, with free activities for the whole family (11am – 3pm). A quality arts auction will take place that evening (5:30-7:30pm). This auction includes live music, wine, hors d'oeuvres and a fun opportunity to become owner of a quality fine art piece by an internationally recognized local artist. Jan Brown donates 4 tickets (valued at $35 each) for you to attend the live auction.
8 week Studio class at the Richmond Art Center
Experience the creative rush of making art. Rick Ambrose offers a Richmond Art Center's studio 8 week class in drawing, painting, weaving, ceramics, metals or jewelry. The Art Center has the best studio program in the East Bay. Certificate good through July 1, 2016.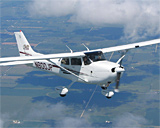 Bay Area flight Tour for up to 3 people
Fly sky high with this aerial tour in a Cessna 182! You'll choose the destination and view: the San Francisco skyline, Golden Gate Bridge, or your own home. The flight takes up to 2 hours and concludes with a no-host lunch at the restaurant of your choice in the area of flight near an airport such Napa, Half Moon Bay, Livermore, Hayward, Palo Alto or San Jose. A great auction gift from Mey Saecho.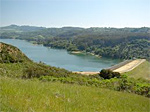 Go take a hike!
Josh Don't-argue-with-an attorney Surowitz has determined that over the years Rotarians have walked the breadth and width of Crockett too many times. So this year he and Alan Blavins invite you to trek through Kennedy Grove, (ask Joe Bags) where if you make it, you will marvel at the splendid views of San Pablo Reservoir. Afterwards you and your family can enjoy a BBQ at Alan's house in El Sobrante. They're planning this for later summer so your kids to play in my pool— expect 80 degrees plus!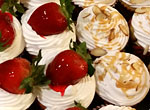 Artisan cupcakes
Got a houseful of kids you'd like to "wow"? How about a dozen artisan cupcakes made by local baker "Cakes by Claudia". The Shalaby's offer this gift, valued at $40.
Dinner at Chez Panisse
Dan Sanders offers this top-drawer dining experience: a $200 gift certificate for Chez Panisse.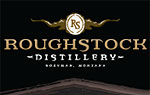 Whisky Tasting
This year we explore—with our tastebuds—the whiskies of Montana. The distiller RoughStock makes six varieties and we'll sample all of them. (Visit the
RoughStock Distillery website
to learn more.) We'll enjoy a hearty meal afterward in the Gensers' backyard; something appropriate for Montana, which means beef (or maybe buffalo). Each attendee must bring a designated driver and the meal for the designated driver is included in the bid price.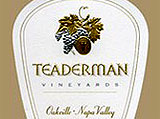 Two cases of Teaderman Wine
A welcome gift from the famed Teaderman Family Vineyard. Stan offers a case of Cabernet and a case of Sauvignon Blanc. These are excellent wines.
A Couple of Kentuckians
Nico Veran's a man of refined taste. For his auction donation, he has selected a bottle of Maker's Mark 46 Bourbon and a bottle of Jefferson's Reserve Bourbon.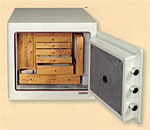 Jewelry safe with digital keypad
Safe has 10 drawers for necklaces, bracelets rings etc. and motion activated lighted interior. Lists for $1,545.00 and available for viewing at Armor Locksmith stores in Pinole, Petaluma and Mill Valley.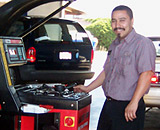 Brake Service and Alignment for one vehicle
Gonzalo Ochoa offers this critical automobile service, valued at $300 to $350, depending on the make of the car. It's a smart way to roll into the new year.
Mey's Yummy Holiday Basket
Mey Saechao will donate a wine and goodie basket containing 3-4 bottles of wine and an assortment of yummy treats. Thank you!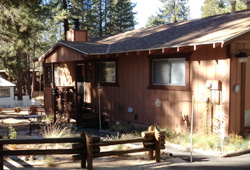 South Lake Tahoe House
Once again this year, Henry Moe offers this beautiful South Lake Tahoe home, located 6 blocks from the lake and 15 minutes driving from the casinos. Accommodates up to 8 people in the three bedrooms and pull-out couch in the living room. Only black-out dates are Christmas and New Years. Offer good through December 6, 2016.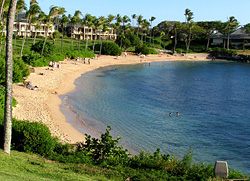 Vacation stay in Manzanillo, Mexico
A sun-filled week at Jerry Feagley's private condo in Manzanillo, Mexico near the famed Las Hadas Hotel where the movie '10' was filmed.
Castella cabin
John Troughton offers a 3-day 2-night stay in his Castella Cabin, fishing included. Take the bait, you'll love it.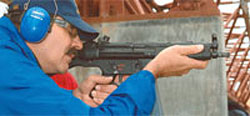 Introduction to firearms
Ever want to learn a little something about modern firearms? Ever want to experience shooting? This item will include an introduction to the basic rules of firearm safety, the basics of shooting (grip, stance, sight picture and trigger squeeze). You will have the opportunity to shoot a variety of handguns. Ideal for someone who has never fired a gun but is curious.
Note: persons convicted of any felony, certain misdemeanors or subject to a restraining order are NOT eligible to participate as it is a criminal offense for any such person to handle a firearm.