The Flywheel
Next Meeting: April 13th

"India, the 'I' in BRIC"
Continuing our intermittent series on strong global economies, Indian Counsul General, the Honorable N. Parthasarathi, visits Richmond Rotary to describe modern India, the secret behind the economic success story and opportunities for American business.
Meeting of Friday, April 6th
Welcome, Invocation, Thought for the Day
Herb led us in the invocation today, asking for a moment of silence for "Peace and Freedom on Earth". Henry Kelman offered this Thought for the Day: "The Republicans have shot themselves in the head."
Sunshine Report
Herb stopped by John Niccol's house and says he is doing very well. The poker group is going to pick him up today to play poker. He welcomes phone calls and so does Charlie Wong.
Apparently these guys are desperate for the latest gossip.
Announcements
There will be a BARSHEEP meeting on April 27, at "La Revolucion" probably in the evening. The BARSHEEP are selling green shirts – see Pam if you are interested in purchasing them.
Playland-Not-at-the-Beach is next Friday.
The NIAD workday will be rescheduled by Mark because he is busy that day and the work that NIAD wants done is somewhat complicated so he will need to be there. The work involves dismantling shelving and reassembling the shelves in a room at the back of the facility. Plus they want us to do some painting.
Happy and Sad Dollars. Recognitions
Don Lau is going on a long deserved vacation to Hawaii and will enjoy the sunshine in his speedo.
Hank Covell told us a story about a group of thieves who stole a 220 pound calf. Moooo!
Alan B. employed his English charm to talk his way out of a speeding ticket. I guess the accent works.
Henry Moe announced that the Salesian boys basketball team won the championship this year.
Jim Young donated $595 sad dollars to mark the passing of his brother-in-law, a doctor who worked at a State Facility in Atascadero, after a long battle with leukemia.
Ralph Hill is celebrating his 37th anniversary by treating his wife to a camping trip at Frank Ogawa Plaza in Oakland. There will also be a tour of the Port. This is a step up from last year when they had a romantic evening away from home at the Motel 6 in Bakersfield.
Don Lau is celebrating 29 years at the YMCA. He and Henry Moe also announced the annual Salesian golf tournament on May 7. Don is trying to get a 4-man golf team together to enter the tournament. The cost to enter is $250.
Henry Moe also gave us an update on the Salesian Interact Club: they raised $500 with the Crab Feed, and another $500 with a bake sale. They have used the money they have raised to send one person to Camp Royal and to support an orphanage in India. The interact club will be selling shirts and jackets at the golf tournament.
Norm's Nonsense
A gentleman was struck by an auto and awakened to find himself in a Catholic hospital, with a nun next to him with a tablet and pen in hand.
"Do you have any insurance?" "No," answered the nun.
"Do you have a bank account?" "No."
"Do you have any money with which to play your hospital bill?" "No."
"Is there any family member who might be able to pay it?"
"Well, there is my spinster sister who is a nun. You might ask her."
"If she is a nun, she is not a spinster. We are married to God."
"Great," the man replied, "Just send the bill to my brother-in-law."
PROGRAM
The Richmond Rotary Lunch Meeting Location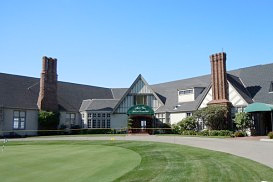 The Mira Vista Country Club charges the Richmond Rotary an amount based on a minimum number of lunches for hosting its meetings at the facility. That minimum was recently raised to 30. When the meeting attendance drops below 30 lunch-buying members—a frequent occurrence lately—the Club has to make up the difference between its revenue and the amount owed to MVCC.
The Club has been losing around $500 per month under the increased minimum. To explore ways of stopping this loss, the board has held 2 of its regular recent meetings at alternative venues. While many members like La Revolucion Restaurant, at Hlltop, others feel that the smaller room may present problems. Space isn't a problem at the Richmond Country Club, the other location where we have recently met.
The Richmond Country Club has offered us a 20 person minimum and a location that is within Richmond city limits, which Mira Vista is not. Moving our regular meetings there would stop the losses we have been experiencing at the Mira Vista. While visiting at the Richmond Country Club, several weeks ago an informal vote overwhelmingly favored the Richmond County Club as our new lunch venue.
But some members hate change and have been coming up with ideas that would allow us to stay at the Mira Vista. Some of the ideas discussed were: merging with another club and combining the memberships to meet the new minimum, prepayment of lunch charges regardless of attendance, and negotiate with the Mira Vista by threatening to leave unless they lower the minimum.
Time will tell how this journey ends.
- Rotating Editor, Mark Howe