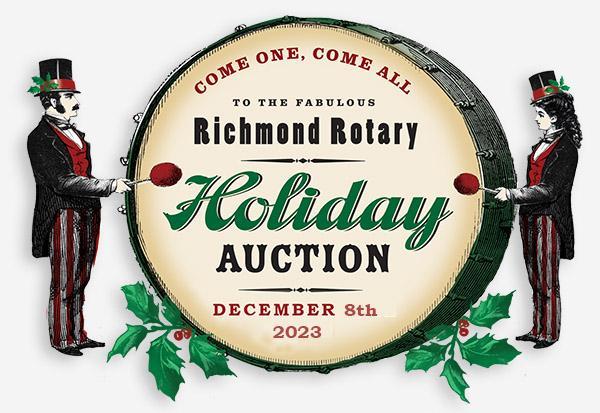 Holiday Gift Shopping that Benefits Your Community
You make the difference! Your contributions to our Holiday Auction raise the money we donate to local schools and community organizations. So join the band: come to the Auction, invite guests, and of course, bid on some of the fun and useful items listed below. Check back to watch the list grow day by day.
We know that every Richmond Rotarian will want to pitch in. Please click the blue Post Item button to send us your item's description, which we'll post on this page. Or if you prefer, click the yellow Donate button to make a tax-deductible donation using PayPal or your credit card. We request a donation of $100 or more. Either way, your generosity helps to build a better community.
We encourage to to invite your friends and colleagues to the Holiday Auction. You can download and send them the auction flyer.

Self-checkout
The Bottle of Muscatel

 

Once upon a time the retail value of a bottle of Gallo Muscatel was around two dollars. But today "The Bottle" has accrued a fundraising value of… well we don't know for sure. But we're pegging it at around $14,000! The concept is as simple as it is beguiling: each year a Rotarian invests in the venerable object, increasing its total generated value and earning the high honor of having his or her name memorialized in Dymo tape on the bottle. The one condition: the current holder of the The Bottle must not drink it!

Holiday Auction Classics

The Sister Bottle

 

Unlike the Bottle of Muscatel, The Sister Bottle (Amarula Cream Liqueur  this year) is meant to be enjoyed socially by those discerning persons who possess it. Each person who contributes to its purchase—last year, Monique Le Conge Ziesenhenne— earns the high standing that comes with having their name embossed (yes, Dymo tape) on the outer box. If that is not a form of immortality, the word has no meaning.

Holiday Auction Classics

East Brother Lighthouse Bed, Breakfast and Dinner


 

East Brother Lighthouse is a beautifully restored California Victorian Lighthouse Dinner, Bed & Breakfast Inn perched atop an island in the strait  separating San Francisco and San Pablo Bays. Offering a dinner, bed & breakfast, and an island lighthouse experienc, it is a unique California destination. Guests will get a full tour of the island, and regaled with the history of the island and its life as a lighthouse up to the present day. The value is $435, double occupancy including boat transportation. See www.ebls.org for more information.

Food / restaurants, Holiday Auction Classics, Lodgings

Contractors' Lunch

 

Erle and Jonathon once again toss down the gauntlet. Can the Club's die-hards outlast one another despite the abuse to which they've subjected their bodies to over the years? Up to ten hardened men and women can wrestle with the same question again this year. Minimum bid $200.

Holiday Auction Classics, Social events

Sid's Infamous Eggnog


 

Sid Chauvin again contributes his 'Magical Elixir' for which no description can do justice. One must partake to understand and enjoy!! Quart bottles to take home as well as abundant tasting opportunities at the Auction.

Holiday Auction Classics, Wines / distilled spirits

Doreen's Cookies

 

Don't arrive at your holiday party empty-handed. This perennial favorite, 5-6 dozen scrumptious chocolate chip cookies in a festive wrapping, will delight a crowd of hungry revelers. They can be frozen (the cookies, that is).

Food / restaurants, Holiday Auction Classics

Bird walk at Coyote Hills Regional Park

 

Nick Despota, accompanied by an expert birder with the Golden Gate Bird Alliance, will take up to 8 guests on a leisurely walk through Coyote Hills Regional Park in Fremont. The park encompasses three distinct ecological areas: wetlands, bay shore, and wooded hills. Consequently, we have often spotted 30-40 different species in a morning.

We'll convene at the Visitors Center at 8:30 AM. Coffee and pastries will be on hand to fuel an energetic start. Binoculars provided for whomever needs them. Date to be decided among participants. We'll carpool.

Recreation, Social events

Portrait by artist Alan Blavins

 

Rotarian Alan Blavins has been donating finely-drawn portraits for years.  These are one-of-a-kind works that you'll appreciate forever: a framed drawing of yourself, your family, or you and your grandchildren.  Alan will create this work from a high-resolution photograph. Limited to three portraits.

Art / music, Other

Lau's Luau

 

Join us for the 65th Anniversary of Hawaii becoming the 50th State. The "Admissions Day" party will take place on Saturday, August 17, 2024. Enjoy cocktails, "pupus" (appetizers), dinner and a great time. The party will be at Don's Hale (house).  Support will be provided by Don's menehunes (helpers) Henry and Carolyn Moe.

Food / restaurants, Holiday Auction Classics, Social events

You're Beautiful Baby! High-end beauty products

 

Enjoy a mystery basket full of high-end Beauty Products donated by Bay Area Girls Club and Project Glimmer. Estimated Value $350

Other

South Lake Tahoe vacation house

 

Henry Moe offers this rustic, cozy and family-friendly South Lake Tahoe home with 3 bedrooms, 2 bathrooms, fireplace and a deck. Sleeps 6 comfortably. Fully stocked kitchen, TV's, Wifi and propane BBQ on the deck. 5 minutes to the Lake, 10 minutes to Heavenly Valley Ski Resort and 15 minutes to the state line, casinos, gondolas and Heavenly Village Shopping Center.
The stay would be for a 3 days and 2 nights. There is a one-year expiration date starting when the item is purchased.

Holiday Auction Classics, Lodgings

Christmas Liqueur & Brandy

 

Simon Ellis offers a fine selection of spirits that's guaranteed to lift the holiday spirits of your friends and family.
DiSaronno Velvet Cream Liqueur, 750 ml
Claude Chatelleier VS Cognac, 750 ml
Kahlua Coffee Liqueur, 750 ml
Grand Marnier Liqueur,750 ml
Pierre Duchene Napoleon Brandy
Bailey's Original Irish Cream, 1 liter

Wines / distilled spirits

Studio tour and cocktails at NIAD

 

Join Karen DiDomenicis and Amanda Eicher at NIAD with six guests for a private tour of NIAD's studio and galleries, with cocktails and light bites in their garden oasis on 23rd Street!
NIAD Art Center is a fine arts studio and gallery program promoting creative expression, independence, dignity, and community integration for and with people with disabilities.
Our tour includes a look into NIAD's Rotary-funded woodshop, weaving demonstration on NIAD's Rotary-funded looms, and more!

Art / music, Social events

The Firehouse Dinner

 

Richmond firefighters are once again offering to cook you a hearty dinner in their firehouse. Enjoy food and fellowship with the men and women whose sole job is your safety.

Food / restaurants, Holiday Auction Classics, Social events

An Elegant Dinner, hosted by Menbere and Jean Yves

 

Our dear friend Menbere, the former owner of Saluté's Restaurant, will host an extraordinary dinner with champagne and wine for 25 lucky guests. Desserts will be prepared by her husband John Yves of Galaxy Desserts. The dinner will take place in Menbere and Jean Yves' beautiful waterfront home by the Richmond Marina, with its beautiful view of the Bay.

Food / restaurants, Social events

Annual Josh Genser memorial whiskey Tasting

 

"A banana is 105 calories. A shot of Whiskey is 80 calories. Choose wisely." – Anon

This year's whiskey Tasting will feature whiskeys of the world.  You will have an opportunity to taste and drink premium whiskeys from several countries including Scotland, Ireland, Japan, India, Canada, and the United States.  A great meal is included and cigars for those interested.

Social events, Wines / distilled spirits

Wine & Books (Adult)

 

Enjoy reading a great book with a glass of red or white wine.

Books and Wine

Gift Basket from Madagascar, Island of spices

 

Madagascar, Island of Spices Gift Basket includes:

– Three bottles of Dzama Rhum Arrangés marinated  with vanilla; another with lemon grass; and the last one with orange rind and cinnamon.
– A sampler of the multi-international award-winning chocolate of Madagascar.
– Madagascar Cocoa powder, the most flavorful variety of cocoa.
– And of course because Madagascar produces 80% of the world vanilla, a vanilla extract bottle from our Bourbon vanilla.

Food / restaurants, Gift baskets, Other

A case of 2013 German Rebgarten Red blend Wine

 

A case of 2013 German Rebgarten Red blend Wine

Wines / distilled spirits

Bottle of Don Julio Primavera Tequila

 

Enjoy a bottle of top quality Tequila Don Julio Primavera that features a deliciously smooth expression that takes the brand's traditional Reposado and finishes it in orange wine casks, which previously held wine infused with macerated orange peels, striking the balance of citrus and honey. This unique reposado tequila is made for moments spent outdoors, in the daytime, with friends.

Wines / distilled spirits

One week stay on the St. Lawrence River in Quebec

 

Jon Lawlis and Darlene Quenville once again offer an idyllic farmhouse located one hour west of Montreal, in St. Anicet, Quebec. This beautiful 100+ year old farmhouse, situated on 5 acres on the St. Lawrence River, offers stunning views and waterfront access. Great for families.

Availability: June 8 – 15, June 15 – 22, 2024 and possibly July 13 – 20, 2024 if booked soon. Click here for pictures and full description

Holiday Auction Classics, Lodgings

Cannabis Beverage wellness basket

 

This enticing raffle basket is a delightful assortment of cannabis-infused beverages designed to cater to various needs. From calming elixirs to invigorating energy inducing beverages, each drink is meticulously crafted to harness the potential benefits of cannabis. The inclusion of sleep-inducing elixirs promotes relaxation, aiding in a restful night's sleep, while energizing beverages provide a refreshing boost without the jitters. Cannabis beverages offer a discreet and accessible way to incorporate cannabinoids into daily routines, allowing individuals to explore different formulations to suit preferences, whether seeking tranquility before bedtime or a pick-me-up during the day. This basket is valued at $100.

Gift baskets

Cannabis Pain and Sleep wellness basket

 

This thoughtfully curated raffle basket is a comprehensive collection of relief items, addressing both pain management and sleep enhancement. From the convenience of pre-rolls offering a straightforward way to unwind to the fast-acting efficacy of tinctures, the indulgence of chocolate, and the convenience of capsules. The inclusion of pre-rolls provide a classic approach to cannabis consumption, while tinctures offer precision in dosage. Cannabis-infused CBD chocolates add a touch of delight to relaxation and capsules offer a discreet option for those seeking on-the-go relief. Together, these items create a holistic approach to well-being, presenting a variety of choices for individuals looking to explore the benefits of cannabis for both pain relief and improved sleep quality. This basket is valued at $200.

Gift baskets

Cannabis Topical wellness basket

 

This raffle basket contains a unique blend of items for relaxation and relief, featuring a range of cannabis topicals known for their therapeutic properties. Infused with cannabinoids like CBD, these topicals offer a natural solution for managing pain and inflammation. Applied directly to the skin, they don't induce the psychoactive effects associated with traditional cannabis consumption, making them an accessible option for those seeking localized relief. From soothing bath salts to revitalizing creams, this basket provides a diverse selection of cannabis-infused topicals, offering a chance to experience the potential benefits of cannabis in a non-intoxicating form. This basket is valued at $200.

Gift baskets

2000 yr-old Thawed Ice from South Pole

 

This water was collected by Shawn Dunning from the "well" at Amundsen-Scott South Pole Station in February, 2019.  The well consists of thawed ice several hundred feet below the surface of a 9,000-ft-thick glacier.  Based on ice compression calculations in relation to annual snowfall on the polar plateau, until 2019, this water had been frozen for over 2,000 years.  Frame comes with a dated stamp from South Pole Station. 

Art / music, Collectors Item

Exquisite Red Wines

 

Explore a curated selection of exquisite Cabernet Sauvignon and luxurious red blend wines, each bottle a masterpiece of craftsmanship and taste.

Wines / distilled spirits

Philips Sonicare DiamondClean Smart Electric Toothbrush

 

The Philips Sonicare electric toothbrush is created with a deep cleaning brush head. It has soft flexible sides, the bristles contour to the shape of each tooth's surface to provide 4-times more surface contact and remove up to ten times more plaque from hard-to-reach areas. The brush heads smaller size and targeted gum line bristles deliver gentle yet effective cleaning along the gum line, where gum disease starts. Perfect gift to create the perfect smile for those holiday photos!

Health

Foursome at the Berkeley Country Club in El Cerrito

 

Formerly known as the Mira Vista Country Club, this course remains one of the most scenic in the Bay Area regardless of its name. Treat your friends or relatives to a memorable day on the greens. Thank you, Alan Blavin, for this generous donation.

Recreation, Social events

Foursome at the Richmond Country Club

 

Your outfit may not be as stylish as the ones sported by these folks, but that's no reason not to bid on and enjoy this foursome at the Richmond Country Club. Thanks, Don!

Recreation, Social events

The Presidential Yacht Potomac

 

Looking for an unusual and memorable activity for friends and relatives who visit the Bay Area? Here it is: 8 dockside tour passes for Franklin D Roosevelt's yacht, the "Potomac," aka "the floating White House." Value at $50.

Recreation

Spirit Works Distillery

 

Elaina Genser has donated a good time for you and friends or family, It comes in the form of a tour and tasting for four guests at the Spirit Works Distillery, in Sebastopol. To learn more about the tour, watch this video on the Spirit Works Distillery.

Wines / distilled spirits

The Miracle of Saint Orola

 

This unusual work of art depicts a miracle performed in the Italian city of Padua. The line drawing is etched onto a piece of glass, the back surface of which is a reflective layer of gold. That in turn is laminated onto a piece of black glass. It must be seen to be appreciated.

Overall size is 10-1/4" x 14" x 1/4" (W x H x T). It is shown in the photograph mounted to a cloth-covered backing board. The second photograph shows the inscription on the back: "Padua.The Miracle of St. Orolo. Hand-carved and painted. Black. Gold. Laminated gold. St. Bruber."

The piece belonged to Josh Genser and was donated by his wife, Elaina.

Art / music, Collectors Item

Z-Wave Smart Keypad Deadbolt

 

Pair with a Z-Wave smart home or security system like Samsung SmartThings or Ring Alarm to lock and unlock from anywhere. Use the finger print resistant touchscreen and share up to 30 access codes instead of keeping track of spare key. Secure encryption with S2 Security. Built-in alarm senses potential door attacks.

Includes 4 AA batteries with low battery indicator and backup key. Easy to install. Guaranteed to fit standard doors (1-3/8 in. to 1-3/4 in. door thickness and 2-3/8 in. or 2-3/4 in. backset)

Limited Lifetime Mechanical and Finish Warranty and 3-Year Electronics Warranty. Fingerprint-resistant touchscreen helps keep access codes private. Unique Snap & Stay technology snaps the deadbolt onto the door so both hands are free during installation.

Certified Commercial Grade 1 and Best in Residential Security, Durability, and Finish

Home improvement, Other

Dog Lover's Christmas Basket

 

The ultimate dog lover's basket

Cozy cuddler dog bed, Mistletoe Moose toy, Megalast ball, Mega Squeaker Bone, Chuck-it SnowBall Fetch Pack with 3 balls, Christmas bow-tie, Pumpkin treats, Turkey treats, Doggie Doughnuts and lastly a 4 pack of Poo bags. Retail value: $130.00

Gift baskets, Other

Dinner for four -- with a view of the Bay

 

Join Mac Lingo for dinner for four with pecan-glazed salmon and chocolate mouse. Besides the food, you'll enjoy an awesome view of the Bay

Food / restaurants

Computer Consulting

 

Mac Lingo has spent over 10,000 hours doing consumer consulting, including pertaining to financial software.  His specialty is learning how something works and then implementing computer code to do it.

Computer consulting, Other

Oktoberfest in El Cerrito

 

Put on your lederhosen and dirndl and join Nakele and Alto Rechenauer at their home on Saturday, September 7 for an Oktoberfest celebration. Come and listen to live music from a Bavarian band and enjoy traditional bratwurst, tri-tip, chicken, potato salad, and of course, beer. Guests can help themselves to the open bar in the Hofbrau room and also enjoy a taste of imported moonshine, "German schnapps," made by Alto's older brother at their family farm and distillery in Germany.  Max of 50 guests

Food / restaurants, Social events, Wines / distilled spirits

Erle's Holiday Mystery Special

 

This is only for Rotarians without a Paul Harris Fellow. Erle is offering a Holiday Special 2 for 1.

The winning bidder will receive Erle's Mystery Special item valued at $100. This item can be enjoyed by friends and family this holiday season.
The winning bid amount will be matched personally by our Foundation Chair (Erle) and be credited to their Foundaton Account. If the right amount is bid it could mean an instant Paul Harris Fellowship.

Other

Chocolate Gift Basket

 

Who wouldn't be delighted to receive a Wince Country Gift Basket of chocolate? It includes two hot cocoa balls, Italian pralines, two travel thermos cups to hold your hot chocolate, chocolate cookie thins, cookie bars, chocolate puff pastries and chocolate mint sandwich cookies. A party in a box! Donated by Elaina Genser

Food / restaurants, Gift baskets

Three Wheel Golf Cart

 

A collapsible golf cart that folds quickly for compact storage and easy transport. Lightweight high-strength metal frame. Three-wheel design makes it highly maneuverable and stable.

Recreation

Waterfront Airbnb in Pt Richmond

 

Jerry Feagley offers his spacious water front Airbnb home with 3 bedrooms that sleeps 6. Located on Western Drive in Pt Richmond it also features a hot tub and large chef's kitchen. 3 days 2 nights.

Lodgings

Mezcal Tasting at Biancoverde at the Hotel Mac

 

Discover why mezcal's smoky attributes have replaced tequila as Mexicans' liquor of choice for refined palates. Up to 12 tasters will explore the world of artisanal  Oaxacan Mezcal Xicaru.  Takes place at Biancoverde in the Hotel Mac, Point Richmond.

Wines / distilled spirits

Club Level SF Giants Tickets

 

Pair of Club Level (CL 221 Row B) SF Giants Tickets for Sunday, June 16th (Father's Day) VS LA Angels.

Estimated Value $250.00.

Major League Baseball, Recreation

Club Level SF Giants Tickets

 

A pair of Club Level (CL 221 Row B) SF Giants Tickets to Sunday, May 12th 2024 (Mother's Day).

Estimated price for the pair $250.00

Major League Baseball, Recreation

Craftsman Hammer Drill

 

New in the box, corded, Craftsman Hammer Drill. For you or the special person who takes care of all your heavy-duty drilling needs.

Home improvement, Other

Don Pilar Tequila Bottle

 

Gonzalo Ochoa offers the distinctive golden color and buttery, oak aroma of Don Pilar's Añejo Tequila. It comes as a result of aging his tequila in virgin American White Oak barrels.

Wines / distilled spirits

Nine Koi Fish (Set of 3) Original Painting

 

Original acrylic painting by Florian Santos. According to Feng Shui, the number 9 is auspicious (good luck). Feng Shui also considers moving water at the entrance of a business or a home auspicious. This painting combines the nine Koi Fish swimming, nearly dancing in the pond. Place it at the entrance of your home to attract good luck.

One of the three paintings is shown on the right.

Art / music

KEURIG K Classic Coffee Maker

 

Single-serve coffee maker.

Other

Morning Coffee

 

This is a work in progress, which includes a coffee grinder, bag of coffee beans, a bottle of Baileys Irish cream, two coffee mugs wrapped in crocheted coffee cozies, and a loaf of home made pumpkin bread.

Food / restaurants, Gift baskets

$100 Gift Certificate to Lara's Fine Dining

 

Lara has graciously donated a $100 gift cert for her Marina Bay Fine Dining Experience

Food / restaurants

Beaded- Gold and Black necklace & earrings set

 

Cloak yourself in the alluring mystique of history's most famous Queen when you don the Cleopatra Choker. Adorn yourself with the beauty and grace of an ancient Queen with this Gold and Black duo.

With a cooler and slightly muted color scheme that connotes ancient kingdoms' precious gems and stones, you will evoke a truly timeless sensation.

Art / music

Beaded- Flower necklace & earrings set

 

Elevate your style with this beautifully flower-beaded necklace and earrings, which embody the vibrant soul of Mexico.

Whether you're boosting an already fun-and-fresh look or adding a unique touch to more formal attire, you will surely be noticed (and remembered!) in this piece.

Art / music

Spirit Works Factory Bar/Ledgers Private Barrel Cask Strength Rye Whiskey

 

2 Bottles of Spirit Works The Factory Bar/Ledgers Private Barrel Cask Strength Rye Whiskey

Tasting Notes: Bright aroma of baked apple, coffee, cedar and leather.
Palate: Spicy notes of clove and nutmeg, followed by notes of honeycomb, toasted coconut and vanilla.
Finish: Warm Spice.
ABV: 61.2%
Proof: 122.4%

Wines / distilled spirits

Teaderman Vineyards Sauvignon Blanc Wine

 

A case of Teaderman Vineyards Sauvignon Blanc 2021 wine. Donated by former Richmond Rotarian Stan Teaderman. $350 value.

Wines / distilled spirits

Staycation - One night at the Hotel Mac with a $100 gift certificate to BiancoVerde Fine Dining

 

Staycation for one night at Hotel Mac. While you're there, enjoy fine Italian cuisine at Biancoverde's. Now that's a special occasion!

Food / restaurants, Lodgings