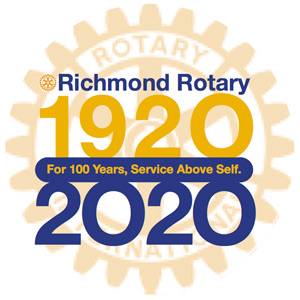 To honor our 100th Anniversary of Service Above Self, Richmond Rotarians adopted the Miraflores Centennial Project: An Immigrant Story as our signature project. The Making A Living educational exhibit was scheduled for installation in the Spring of 2020. Preparations for its installation are now underway with a groundbreaking to occur once the current health emergency is over.
Richmond Rotary, along with many community and business partners, accepted the challenged to raise at least $50,000 to support this significant Centennial Project. Richmond Rotary is thrilled to report that we have exceeded our fundraising goal and will be able to support the installation of the Making A Living interpretive exhibit, and also provide future support to maintain the Miraflores Project's educational value in the coming years.
We offer a special thanks to the community and business partners listed below. We also extend our heartfelt gratitude to the Richmond Rotarians and friends who stepped up and joined our Club 100. Your support and commitment enables us to continue serving the community over the next 100 years of Service Above Self.
Don Lau
Centennial Fundraising Chair
Major Centennial Year Supporters
The Rotary Club of Richmond gratefully acknowledges these supporters of our Miraflores Centennial Year Project 2020.
Ninomiya-Koda Family
District 5160 Rotary Foundation
Richmond Rotary Club 100 (see below)
Chevron USA
Mechanics Bank
Hide Oshima and James Oshima
E M Downer Foundation
C. Overaa & Company
Republic Services
PowerPlant Park
Special thanks to Groundwork Richmond
Club 100
Ric Ambrose
Carey Ash
Alan Baer
Santa Baer
Alan Blavins
Rich Brandes
Byron and Jan Brown
Cheryl and David Brown
Erle Brown
Tom Butt
Sid Chauvin
Herb Cole
Bob Connolly
Hank and Doreen Covell
Bob Dabney and Cheryl Maier
Nick Despota
Darlene Drapkin
Simon Ellis
Brian Fay
Gerald Fay
Jerry Feagley
Jim Findley
Oscar Garcia
Josh and Elaina Genser
Ethan Heinrich
Mark Howe
Shana Bagley Howe
Pam Jones
Bill Koziol
Liliane Koziol
Don and Shelly Lau
Jon Lawlis
James Lee
Mac Lingo
Norm Lundberg
Henry Moe
Gonzalo Ochoa
Cecilia Orozco
Darlene Quenville
Nakele Obleton Rechenauer
Carol Robinson
Mey Saechao
Tamara Shiloh
Fran Smith
Stacey Street
Josh Surowitz
Pierre Thompson
Connie Tritt
Mike Winter