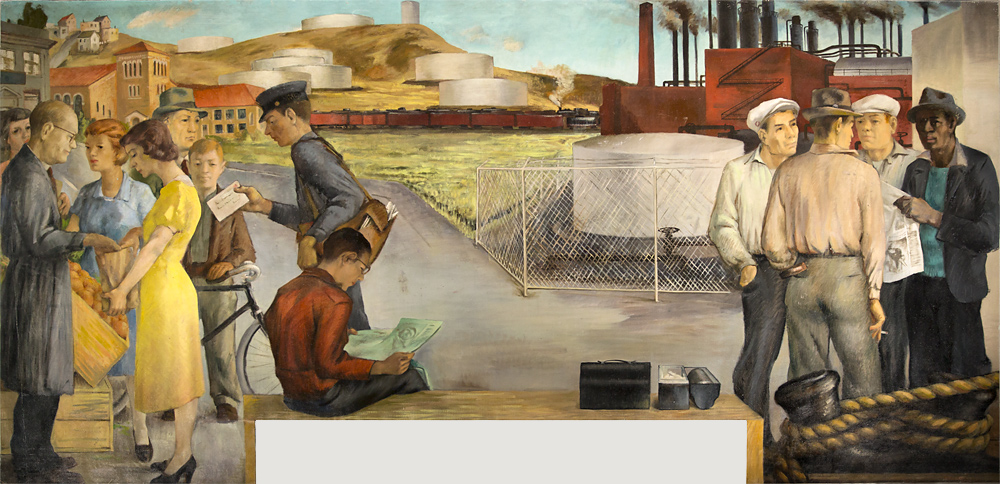 The historic mural of Richmond landmarks by famed artist Victor Arnautoff is now at the Fine Art Conservation Laboratory in Goleta, California, undergoing treatment. The mural will be on public view in 2020 at the Richmond Museum of History & Culture (RMHC) for the first in over forty years. The artwork will be an exciting new attraction when the Contra Costa County health department allows indoors museums to reopen.
The mural was commissioned by the Treasury Section in 1941 to adorn the newly completed post office at 1025 Nevin Avenue. The mural portrays industrial landmarks of prewar Richmond in the middle with groups of people on both ends. The mural is replete with symbolism, including one particularly fascinating person. In the right foreground, an African-American man stands with other longshoreman at the Port of Richmond. Noted Arnautoff scholar Robert Cherny states "Though the city's population was almost completely white as of 1941, by adding the longshoremen Arnautoff could reasonably depict one as an African American, since the International Longshoremen's and Warehousemen's Union (ILWU) was known for opposing racial discrimination."
Richmond Industrial City is the only Arnautoff mural in the East Bay and will be another jewel in Richmond's crown. Art conservation is costly and will only be made possible with the support of the community. Please make a donation today and support the Museum's work to restore the mural.
RMHC invites you to play the Richmond Industrial City postcard trivia game! How many local Richmond landmarks can you identify the historic mural? Visit our website at www.richmondmuseum.org/mural to participate. Special insider tip just for my fellow Rotarians. Bonus points if you can locate the image of Hitler!
Melinda McCrary
Director of the Richmond Museum of History