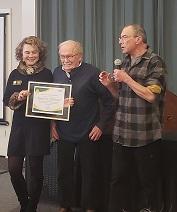 At our club meeting on Friday, Jan 7, Daniel Barth, Executive Director of SOS Richmond, presented recognition awards to Club Director Tom Herriman for our Housing First program and to Vicki Knudson, the "guardian angel of Rydin Road", to honor our efforts in 2022 to assist our neighbors with a roof over their heads, regular hot meals and essential supplies.
During these severe weather conditions, every tent, sleeping bag, pair of gloves, or pair of socks makes a difference.
To make a donation, here's a link to the Amazon registry to support SOS Richmond.
Continue reading →