NEXT MEETING: August 30, 2019
Planning and our Built Environment
Many projects in Richmond are moving from the drawing boards to ground-breaking. The City of Richmond's new Planning Director, Lina Velasco, will give us an overview of upcoming development projects in our city.
ANNOUNCEMENTS
Last week you should have received a letter about our campaign in celebration of Richmond Rotary's centennial, Club 100. (If you didn't, the email may have been snagged by your spam filter.) Please consider a pledge to support our Miraflores Centennial Project 2020, an outdoor educational exhibit (see below). Don Lau is waiting to hear from you.
Would you like a personal tour of the Miraflores Greenbelt to see the future site of our Rotary Club's Centennial Project installation? Contact Jan.
Richmond Rotary is hosting the BARSHEEP TGIF at Riggers Loft on August 30. 5:30-7-30pm (see flyer in your email)
By the time you receive this, the Soulful Softball Sunday event will be a  memory with new backpacks (in part from Richmond Rotary) for kids distributed! (Thank you Pam)
MEETING OF
Welcome
President Jan welcomed everyone to the friendly Richmond Rotary. Simon Ellis led the Pledge of Allegiance and Jim Findley led the invocation. Alan Blavins and Nick Despota gave thoughts-for-the-day that spanned the range from the profound to the puzzling.
Visiting Rotarians and Guests
Our esteemed guest was the 5160 District Governor Tina Akins. Tina presented a District check in support of our 100 year club anniversary project at Miraflores.
Recognitions and Happy and Sad Dollars
Ric Ambrose celebrated his wedding anniversary. As they did on their first date, the long married couple enjoyed it at IHOP.
David A. Brown was happy he presided over the wedding of his grand-nice.
Nick was happy he went to Ireland to visit his daughter and granddaughter, though he seemed a bit tentative about diving back into life back home. But [I'm keying away in WordPress to knock out this Flyweel, ain't I? -Nick], he obviously has.
Fran was happy to announce a fundraiser for the Masquers Playhouse in Pt. Richmond, If you're a fan of community theater, Fran needs to hear from you.
Jerry Feagley is happy to be back after being a gone a few weeks.
Jim Findley was sad in memory of the 400 years since first slave ship arrived in the US.
PROGRAM
Groundwork Richmond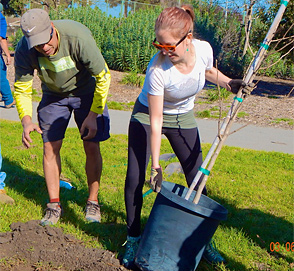 Matthew Holmes, Executive Director of Groundwork Richmond, described in vivid terms the link between environmental stewardship and youth development in Richmond.
Oscar Garcia, Volunteer Scribe