NEXT MEETING: July 20, 2018
The Great Hand-Off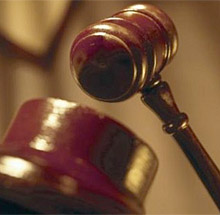 It's the annual Rotarian rite of passage: Demotion. The accomplishments and adventures (or misadventures) of former president Connie Tritt will be served up with a big dollop of satire and pinch of farewell. This will be fun.
ANNOUNCEMENTS
Jan Brown announced an exhibit and celebration of the work of her father. Just Over 70 years ago, then Richmond Rotarian Don Hardison became a licensed architect and hung his shingle on 23rd Street in Richmond. His firm later expanded to become Hardison & Komatsu and then HKIT Architects. An exhibit and celebration of the firm's work (much of it in Richmond) is on display through the end of August at the AIA East Bay at 14th and Clay in Oakland (open M-F). Learn more about this.
MEETING OF July 13, 2018
Welcome
New Richmond Rotary President Jerry Feagley called his first meeting to order. Your scribe led the Pledge and Herb Cole offered a prayer for peace, freedom and justice. Sid Chauvin asked the question: "What life altering event took place 60 years ago in Fresno, CA? Answer: Bank of America sent credit cards to their customers."
Visiting Rotarians and Guests
Prez Jerry's guest was Adam Sass. We also welcomed our guest speaker, Eileen Gazaway, and a visitor El Cerrito Rotary, Sil Addiego
Recognitions and Happy and Sad Dollars
Oscar Garcia did the honors
Herb Cole joined Rotary in 1992 during Erle Brown's presidency. Your Scribe was his sponsor
and had to pay off Erle to get Herb Cole in.
Sid Chauvin was happy that his "younger sister" turned 94???
Edgar De Leon was happy to join the KBLX team 3 months ago and his son's graduation from
UMASS.
Oscar Garcia was happy to be working on a project that will take him to Portland and gives
Portland high marks as a destination.
PROGRAM
Armand Carr tells us about being "All Tied Up"
Edgar De Leon introduced our speaker Armand "The Voice" Carr, who hosts two programs on KBLX 102.9: The Quiet Storm and Listen Up Bay Area (a community awareness program).
Armand was contacted by a staff member from Richmond High School, which was in need of backpacks for the Richmond High School football team. Although he could not help her with the backpacks, Armand came to the school with ties from his closet. That is how the All Tied Up was started. The program prepares young men ages 13-21 for success. It offers three main workshops: 1) how to tie a tie; 2) hygiene and 3) networking. The All Tied Up website explains the program goals this way:
"Through encouragement and focused engagement, we can cultivate a community of young men with vision to achieve their greatest self. (…) In short, our young men become better problem solvers and decision makers, which means they are less likely to be involved in destructive behavior.  At All Tied Up, we share a voice of belief and conviction that THEY CAN succeed."
Armand welcomes donations to the program. If you want more information on All Tied Up or want to donate you can go to his website: www.alltied.org
- The Menehune, Rotating Scribe