The Flywheel

Archive issue
NEXT MEETING: June 7, 2013
Budget challenges to California's judicial system
The Honorable Diana Becton will discuss the budget-driven challenges that face our State's judicial system.
MEETING OF May 31, 2013
Welcome
President Jim Young rang the bell and called the meeting to order. Heather Kulp led the pledge of allegiance and Stoney Stonework asked for a moment of silence for freedom, peace, and justice on earth. President Jim had this thought for the day: "It ain't over til the fat lady sings", referring, of course, to the successful concluding performance on May 26 of the Lost Secrets play at the East Bay Center for the Performing Arts.
Rotarians with Guests
Norm Foley introduced his wife, Bonnie.
Sunshine Report
Jim reported that Norm Lundberg is a new grandfather. Congratulations!
Announcements
President Jim announced that the Lost Secrets play was sold out for five of the six performances with over $8,000 in paid ticket receipts. About three hundred tickets were donated to local school families and other groups thanks to the generosity of several Richmond Rotarians as well as corporate donors like Kaiser and Republic Services. There have been kudos from Richmond's Mayor and a lot of expressions of gratitude and community goodwill for Richmond Rotary's sponsorship of the play. While a final tally is forthcoming, it appears the project will have a financial deficit of about $5,000 compared to the original budget.
At the Club meeting on June 21, there will be a member vote to amend Club by-laws to add a non-discrimination clause related to membership.
Richmond Rotary will host a Richmond Chamber of Commerce mixer on Thursday, August 8, from 5-7pm, currently planned for the Richmond Country Club.
This is the last announcement for the Bocce Ball tournament at Aquatic Park in Martinez on June 8. Teams led by Pam Jones and Rafael Madrigal have been practicing and preparing night and day. Everyone's encouraged to come out for the fun and even participate due to highly accommodating rules for player substitutions.
The Richmond Rotary Board of Directors has approved the setting up of the John Nicol Memorial Fund to provide college scholarships for graduates of Richmond High School (John's alma mater). Related to this new fund, Hank Covell announced that, with the cooperation of John Nicol's family, he has put into safe keeping some bottled spirits from John's personal collection and that those beverages will be offered at the annual Rotary Christmas Auction in December with proceeds going to the new Fund. Sid Chauvin also announced some planned Christmas Auction items to benefit the Fund based on his gathering together an amazing collection of items designed and produced by John, including several hundred special-occasion pins (vintage late 80's to the present) and some unique Rotary luggage tags.
Recognitions
Happy and Sad Dollars
Jan Brown had some happy dollars in wishing Norm Foley a happy soon-to-be birthday as she remembered one of her first graphic design jobs working with Norm's Crabtree Graphics Company on school textbook covers. Jan was also effusive in congratulating Jim and Linda Young for all they personally did to make the Lost Secrets play project such a great success. Jan really liked how the play brought together all elements of artistry and technical functions.
David Brown had happy dollars for the $100 check that he received from last week's program speaker for Moore, OK tornado relief. Before mailing the check off to the Murray, KY Rotary Club that he's working with on the relief project, David welcomed other Rotary contributions that he could put in the envelope. With his Club Treasurer's hat on, David was also happy to announce that the Club Board of Directors, instead of awarding one $1500 Interact scholarship this year, has approved two $1,000 scholarships for Salesian High School Interact graduates, Laila Kazmi and Anthony Bell.
Bill Koziol was happy that his father's surgery at UCSF was successful (transplanting leg bone to his face for new jaw reconstruction). The wonders of modern science!
Erle Brown was happy to be heading off with his wife Phyllis for a make-up cruise of Norwegian fjords followed by travel to Lisbon, Portugal to attend the Rotary International Convention (while helping to keep Herb Cole and Jon Lawlis out of trouble).
Jon Lawlis was happy that drinks in Lisbon are on Erle.
Don Lau offered some happy dollars to second Jan's emotions about the Lost Secrets play.
Sid Chauvin was happy for his daughter returning to work after maternity leave while grandma Zelpha is babysitting.
Norm's Nonsense
On the rewards of higher education:
After 4 years of college, the engineering major has learned to ask, "Why is this built just the way it is?"
The economics major asks "How do market forces determine the price of this item?"
And the liberal arts major asks, "Will you be having fries with that?"
PROGRAM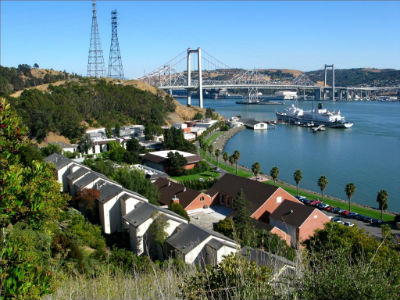 Richard Alexander introduced Rear Admiral Tom Cropper, President of the California Maritime Academy (CMA) in Vallejo. Richard's son, who's now finishing his senior year at CMA, also played on the school's rugby team with Tom Cropper's son, who graduated in 2012.
Admiral Cropper is a graduate of Iowa State University and received his US Navy officer commission in 1981. He pursued a 31-year career as a naval aviator before retiring and becoming President of the CMA.
The CMA is a California State University (CSU) of Engineering, Technology, and Marine Transportation. It is one of 23 campuses in the CSU system and one of only seven degree-granting maritime academies in the United States.
With about 1,000 undergraduate students enrolled at the 80-acre campus, the CMA offers six different Bachelor degrees and one Master's Degree in Transportation and Engineering Management.
Key values learned at the CMA are teamwork, trust, reliability, and self-discipline. There is a major emphasis on developing leadership qualities in CMA graduates as they prepare for careers of service. Recognized by various publications as offering an affordable, high-value education, the CMA boasts a 94% job placement rate for its graduates. Licensed ship's officers can make $70-100K at the age of 22.
As Admiral Cropper pointed out, the CMA is not just a merchant marine academy. It's a complete maritime university that is
Adapting to rapid and constant change
Preparing graduates for a global profession
Delivering  a well-qualified pool of sea-going officers and shoreside intermodal transport experts for national defense and international humanitarian needs (think tsunami and major flooding relief)
Positioning California for economic vitality in America's Pacific Century
With water accounting for 70% of the earth's surface, 80% of food protein, and 90% of world trade transport, the oceans are vital for life as we know it. This quote provided by Admiral Cropper (author unknown) provides a haunting reminder of the ocean's majesty and mystery: "The sea is huge and it is always changing. Its many moods and unending motion are unforgiving of human weakness and constantly place great stress on people and equipment."
Rotating Scribe, Tom Waller