NEXT MEETING: November 14, 2014
Talk with Dan Ashley, ABC7 News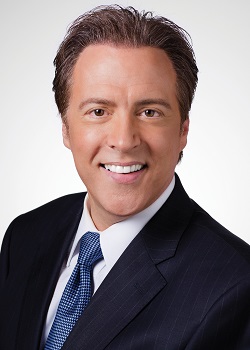 Dan Ashley, anchor with ABC7 News, will speak about his career as a reporter and provide highlights from his work. For more than 30 years, Dan has reported on a wide-range of issues and events; some joyful, some tragic, from reporting in San Francisco's Marina district in the days after the Loma Prieta earthquake, to watching John Glenn blast off on-board the space shuttle at Cape Canaveral, to visiting the Auschwitz concentration camp in Poland with Bay Area holocaust survivors.
Dan is also extremely involved in the community, serving on several boards including the American Red Cross, Commonwealth Club, Contra Costa Crisis Center and the California Symphony.
ANNOUNCEMENTS
The clock is ticking down, the drum is beating: our Holiday Auction will take place on December 12th, so here's another reminder. Please visit the Holiday Auction page to see what we've already collected—you'll see the evergreen favorites from last year. But you'll also see a red button, Post my item. Click it to open a form on which you can describe your item, upload a picture if you'd like, and add to the stock of unusual and entertaining donations that will make this auction the best ever.
Buy a Kid a Bike Program
Each year approximately 1,000 children sign-up to for the Richmond/El Cerrito Fire & Police Holiday Program to receive toys and gifts. On a date in December, these kids come to the E.M.Downer YMCA in Richmond, receive a number, and with it, a chance to receive a bike. The bikes are distributed by lottery. The more bikes we have to give away, the more kids are winners. Last year we distributed over 300 bikes!
To increase the number of winners, please consider making a $47 donation ($45 for the bike, $2 for the helmet). Please make your checks payable to Richmond Rotary Club, and send to 3260 Blume Drive, Suite 410, Richmond, CA 94806. If you prefer you can make your donation via PayPal, using the Donate button below. Download flyer.
Hank Covell gave the Sunshine Report saying that he'd visited Ralph Hill and that Ralph is doing well and accepting visitors at the El Sobrante Care Center.
Kathleen Franks from the Berkeley Club encouraged everyone to attend the upcoming RotaCare fundraiser on November 13th. Musicians Alasdair Fraser and Natalie Haas have donated their performances for this event.
Jim Young reminded everyone to bring children's books for the West County Reads literacy project.
MEETING OF November 7, 2014
Welcome
President Stoney Stonework welcomed everyone to the meeting. Jon Lawlis led the Pledge of Allegiance, and Stoney asked everyone to take a moment of silence for freedom, peace, and justice on earth.
Sid's thought for the day was, "the definition of 'experience' is the name men give to their mistakes".
Visiting Rotarians and Guests
The number of visiting Rotarians was 48 and due to the large number they will not be individually named in this edition of the Flywheel. Nonetheless, we appreciated every one of them and were happy to see them! Club Presidents Ron Tueitmoe of Pinole, Mark Scott of El Cerrito, and O'Neal Dillon of Berkeley were introduced.
District Governor Pam Gray and Fred Colignon joined Stoney at the head table.
Recognitions and Happy and Sad Dollars
Joe Bagley announced that Don Lau's birthday is tomorrow and Don had a gift for the foundation in celebration of that auspicious day. Don also announced that he would be going to Hawaii next Wednesday to celebrate his father's 98th birthday.
Erle Brown was recognized for having been a member of the Richmond Club for 38 years. Erle also had a donation for the foundation.
David Brown had both happy and sad dollars today. Happy dollars were for celebrating his father's 90th birthday. But sadly, David also had sad dollars for the passing of his sister Susy who recently lost her battle with cancer.
David also encouraged everyone to pony up their support for this year's donation for the teaching staff at Peres Elementary.
Jan Brown had happy dollars for the recent election and that Tom Butt and Tony Thurmond, both either current or former members here had won their elections. She also wanted to celebrate local participation in the election and the importance of voting.
Leslie Levy had happy dollars for being here and seeing her old friends.
Hank Covell had happy dollars for having been recently in August, AZ where he celebrated his granddaughter's 22nd birthday. He also noted that she is doing well, has a job, and is able to purchase a 3-bedroom townhouse for all of $160,000!
Jerry Feagley had happy dollars for having earned his blue badge sooner than his wife.
Jon Lawlis had happy dollars for everyone's being there and having such a full room of Rotarians.
Jim Young had happy dollars for Tom Butt's election to the office of mayor.
Herb Cole had happy dollars for having all of our Rotary flags displayed today.
Mark Scott had happy dollars just to get to see everyone today. He also acknowledged District Governor Pam Gray and commented that the district convention was fantastic with inspiring speakers.
PROGRAM
Stoney introduced today's speaker, Brad Howard, Rotary International's Director for Zones 25 and 26 for the 2015-16 and 2016-17 Rotary years. Brad is a past district governor; served as a member of RI's Membership Development and Retention Committee; and served ten years as the coordinator for Zone 26's End Polio Now campaign. Over the years he has led 22 groups of over 1,000 Rotarians on trips to West Africa and India to participate in polio immunization efforts. He is also the recipient of the Rotary Foundation's Distinguished Service Award and the International Service Award for a Polio Free World.
Brad's focus today was on the Foundation and how critical it has been to Rotary's success in a variety of service projects, particularly the polio campaign. He started by noting that although Rotary's motto is "service above self", the real reason people join Rotary first and foremost is for the sense of community it provides. The second most common reason is to make a difference in the community, to do something worthwhile. Brad stated that what makes Rotary unique in the world is its international scope and it's Foundation. The Foundation he noted is a simple, efficient tool for impacting service and inspiring peace throughout the world. It's simple because it's easily scalable. Over the years the Rotary Foundation has given $1.2 billion to eradicate polio, the biggest private health care project in the world. Prior to Rotary's taking on the polio eradication project, the World Health Organization had concluded that it couldn't be done! Right now, new cases of polio remain in three countries – Nigeria, Afghanistan, and Pakistan. In 2013, there were 416 new cases worldwide. In 2014 thus far, there are 278 new cases. Of these, six new cases are in Nigeria, 18 cases are in Afghanistan and the remainder is in Pakistan, the problem in Pakistan being the Taliban. Regardless, there are efforts being made politically to get immunization workers into the Taliban controlled areas and the Pakistani Prime Minster recently claimed that Pakistan would be polio-free in six months.
Other outcomes include changing how other organizations have changed their own expectations because of what Rotary has done with polio, citing an example of the United Methodist Church and their efforts to distribute mosquito nets to nearly 300,000 homes in one African country. When asked how they thought they could do that, they replied that they saw what Rotary had done with polio and decided they could! Infrastructure created by Rotary in the campaign against polio was also recently used to prevent the spread of Ebola in Nigeria which could have experienced the same epidemic other western African nations are now experiencing. As a result, Nigeria is Ebola-free.
Brad noted that the Rotary Foundation has been Rotary's single most important structure in these efforts and thanked everyone for their continued support.
Lynn Martin, Rotary Scribe