NEXT MEETING: December 6, 2013

Club dark on November 29th. Happy Thanksgiving.
Our Annual Holiday Auction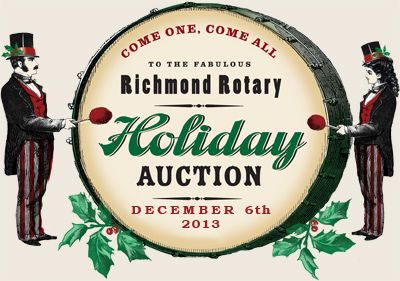 Our Annual Holiday Auction! This event raises the money we donate to local schools and community organizations. Your contributions add to our bottom line: it's money but it's more. We support dozens of local organizations that make Richmond a good place to live. So join the band: if you have yet to make your donation, do it today
ANNOUNCEMENTS
Have you contributed yet to the Holiday Auction, December 6th. Our most important fundraiser of the year is only a few days away, so please add your contribution today! Use our handy Holiday Auction contribution form. And don't forget part two: point your friends to our Auction page, then invite them to spend holiday dollars at the lively event.
Richmond Rotary's Annual Holiday Party will be held on December 6th at 6pm, at the Richmond Country Club. Dinner will be served at 7pm. The terrific dance band, GTS, begins playing at 7:30. The buffet-style dinner will offer a chicken, beef, or pasta dish. The Kiwanis Club of Richmond will join us this year. $150 per couple, and $75 per person. Richmond Country Club. Buy tickets online (see right side column) or mail checks to David Brown.
Tom Waller asked that the people who bid on Judy Morgan's event at last year's auction need to contact her so the event can be completed. You can contact Judy at judy@rcoc.com  or at (510) 234-3512
Mark and Stoney want everyone to know that they will once again hold a BBQ at Mark's house featuring Stoney's award winning BBQ sauce.
The holiday bikes are getting close to the full match of 100 bikes. Each bike and helmet combination is $47 so if you still want to donate get your checks into David Brown ASAP and get the full match of 100 bikes.
Alan Baer will hold a Typhoon Relief Fundraising BBQ at his house on Saturday November 23 at 3001 Barkley Drive. Richmond CA 94806.
The Rotary Trading Post is now up and running on the Rotary 5160 District Website. You can buy and sell goods so check it out.
The Vespa for Bangladesh needs a friend. If we can raise $700 more we can purchase the 2nd Vespa. The Vespas will be used to get out to the villages and train people about arsenic in the water.
December 13, 2013 is our annual toy drive, in cooperation with the Richmond and El Cerrito Fire Departments. Bring your new unwrapped toys to the meeting the firemen and women will distribute them to deserved children in the community.
MEETING OF November 22, 2013
Welcome
Alan Baer led the meeting and although capable is not as pretty as our current President. Norm Foley led the pledge and Stoney led the moment of silence. Sid's thought for the day: When you do more than you are paid to do, you will soon be paid more for what you do.
Visiting Rotarians and Guests
We welcomed a full house of visitors and guests:
Jilavyan Marina, a visitor from "St Petersburg White Nights" Rotary club, and guest of Dan Tanita
Hovic Kokochian, also from St. Petersburg White Nights, and son of Jilavyan. And also guest of Dan Tanita
Linda Young, guest of Jim Young
Igor Barer, guest of Tom Butt, via Mark Howe
Sister Mary Greenan, guest of Hank Covell
Bonnie Foley, guest of Norm Foley
Shauna Bagley, guest of Mark Howe
Special Events
Hovic Kokochian, Dan Tanita's visiting dentist for the last month who was graciously housed in several Rotarians' homes during his stay, will fly back to Russia with his mom after a short trip to LA. Hovic's mom Nilavyan said that she was amazed when she visited America years ago on a dental exchange program and was so moved by the program run by Richmond Rotary that she went back to St. Petersburg and started a Rotary club there, now called the White Nights Club. Both Hovic and Nilavyan were very thankful to the club and to Dan Tanita for the Dental Exchange program. Our Russian friends presented several gifts and thank you certificates our club.
Recognitions and Happy/Sad Dollars
Norm Foley celebrated 32 years with his wife Bonnie and donated $188 which works out to 4 bicycles or 8 with the Rotary Match
Mike Winter celebrated 45 years in the Richmond Rotary
Markku had sad dollars in remembering back 50 years ago. It was a cold day in Helsinki when they announced that the President of the United States had been shot and killed.
Lynn Martin had happy dollars that she made it to and from the base camp of Mt Everest.
Connie Tritt had happy dollars that Tom Waller was honored with an award
Jim Young had a donation toward Alan Blavins next Paul Harris for the art work of Jim and his grandson and Jim wanted to honor of Charlie Fender with a $30 donation to eradicate polio.
Dan Sanders had happy dollars because he has a new puppy
Erle Brown had sad dollars that he was already mourning the Big Game
Sid had sad dollars for what happened 50 years ago
Herb Cole although not present at the meeting sent a proxy with happy dollars for what USC did against CAL last week
Sister Mary had happy dollars that she was welcomed to Richmond Rotary. She was afraid that she might be asked to do a lecture on the history of Thanksgiving and was relieved she was just there as Hank's guest
Norm's Nonsense
PROGRAM
Cheryl Waits, a registered nurse, owns the company, Life Changing Ways. Ms. Waits is a professional Life & Health Coach and Nutritional Consultant. She grew up in New Jersey, and faced numerous health problems growing up. When she moved to Fairfield, Calfironia, the health problems, including numerous allergies, continued.
When Ms. Waits began focusing on nutrition for good health her health problems cleared up. She has been free of those conditions for over 20 years. She distinguished between nutrition and diet. Diet is the food we eat and nutrition is the specific nutrients that your body requires to build and repair cells. The secret to living longer, with a good quality of life, starts with nutrition.
Henry Moe, Rotating Scribe