The Flywheel

Archive issue
NEXT MEETING: August 23, 2013
The Buck Institute on Aging
When Beryl Buck died in the 1970s she left her personal fortune, believed to be greater than $250 million "…for the benefit of the people of Marin County." Out of her bequest has emerged the Buck Institute, one of the world's leading research facilities focused on human aging. Vernon Dwelly who is a docent at the Institute, visits Richmond Rotary to review the interesting history of the Institute and how its research may improve the quality of life for those over 60.
MEETING OF August 16, 2013
Welcome
On a beautiful summer day, President Liliane Koziol called to order a well-attended meeting at the Richmond Country Club. Gonzalo Ochoa was asked to lead us in the Pledge of Allegiance, and Herb Cole offered a silent moment for peace, freedom and justice on earth. President Koziol went on to recognize the passing of Mary Elena Dochterman, wife of Clifford Dochterman, past President of Rotary International, by asking for a moment of silence in her memory.
Visiting Rotarians
Lew Clayman was visiting from the Pinole Rotary Club. Dr. Clayman briefly described a project that the Pinole Rotary Club was undertaking, with financial support from the Richmond Rotary Club, to teach basic healthcare in an impoverished area within Nepal that largely has no access to medical care or training of such issues.
Rotarians with Guests
Tom Waller introduced his guest, Rhys Ludlow, and Jan Brown introduced her guest, Jamie Glidden.
Sunshine Report
Syd Chauvin is recovering well from his recent surgery and expects to be back at the Club soon!
Announcements
Alan Baer will be hosting Poker & Rib Night on Friday, August 16, starting at 6pm. All are welcome and need not play poker to enjoy Santa's ribs and the festivities. Several jars of Stoney's famous bbq sauce were quickly auctioned off by an enthusiastic David Brown.
Alan Baer also reminded everyone of the A's game on August 31, with the event starting at 3:30pm and the game at 6pm. Fireworks will follow and all, including kids, are invited. Please RSVP by giving David Brown a check, ASAP!
David Brown described Richmond Rotary Club's project to provide at least $100 to each of the 29 classrooms at Peres Elementary School in an effort to help offset the need for each teacher to, on average, spend $1,000 of their own money buying the most basic of classroom necessities that the district is unable to provide for. During the meeting, a number of generous donations were made by: Jon Lawlis, Mark Howe, Dan Tanita, Mike Winter, Jim Young, Josh Genser, Gonzalo Ochoa and David Brown, himself, but more donations are needed (donations totaling at least $2,900 – – $100 for each of the 29 classrooms). Please send your donations, made payable to "Richmond Rotary Club," to David Brown so that we can help fund these teachers before the imminent start of the new school year.
Felix Hunziker is leading the charge on behalf of the Club again this year to plant fifty new trees and hold a major arbor-day event at Lucas Park, in conjunction with Richmond Trees, Groundwork Richmond and the City of Richmond, in conjunction with the annual Arbor Day Festival. Felix will provide more details about the date and volunteering opportunities.
Special Events
Gonzalo Ochoa provided us with a look into his life when he gave his "Who Am I" introduction at today's meeting. Gonzalo described how he immigrated to the United States from Mexico in his teens, how he started working as an automobile mechanic, and how he came to eventually begin his own successful automobile mechanic shop eight years ago. Perhaps most impressive are the five children and two grandchildren Gonzalo has!
Nick Despota gave an in-depth PowerPoint presentation detailing the status of the Flywheel, who reads it, what they read, how long it takes them to read it, what they look at . . . you get the picture.
If you wish to review the survey results, download the presentation here.
It was informative and revealing, and will be discussed at future meetings to try to help identify what is important to the members (and the scribes) of the Flywheel. Thank you, Nick, for working so diligently at quantifying and putting the flywheel, and the amount of work it takes to produce the Flywheel, into context for the membership.
Recognitions
Happy and Sad Dollars
Josh Genser had "a bunch" of happy dollars to kick in while Stanford's football team is still doing well, and because he is going to be roasted by, among others, David Brown, at the Coronado Neighborhood Council fundraiser.
Felix Hunziker had a number of happy dollars to put in the pot because his wife was moving on from a job with an unpleasant boss.
Earl Brown had a sad dollar because he could not make the trek to San Francisco with Mayor McLaughlin, but looks forward to next year's trek!
Lew Clayman had some happy dollars because he was pleased to be spending the afternoon with the Richmond Rotary Club (and went on to accurately and quickly recite what the acronym "BARSHEEP" stands for).
Norm's Nonsense
Something to think about …
-Behind every successful man is his woman. Behind the fall of a successful man is usually another woman.
-Since light travels faster than sound, some people appear bright until you hear them speak.
-War does not determine who is right — only who is left.
PROGRAM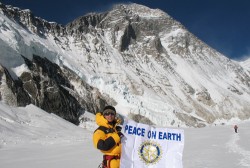 Our guest speaker, Kami Sherpa, is a member of Rotary and has climbed to the summit of Mt. Everest 6 times, Mt. Kilimanjaro 3 times, and has trekked up many, many other incredibly high, steep mountains the rest of us may have only seen in movies or on TV. Kami leads guided mountain climbing expeditions throughout the world, and he spoke about his experience climbing to the summit of Mt. Everest on behalf of Rotary International. Kami provided us with amazing photographs of his Everest expedition, and he described the intense nature of the undertaking (though he did call it a much safer undertaking now, than in years past).
President Koziol presented Kami Sherpa with a certificate from Richmond Rotary, and the Club donated two bricks in his name to a new school being built in South Africa
David Keystone, pinch-hitting scribe