The Flywheel

Archive issue
NEXT MEETING: September 21, 2012
California Initiative to End the Death Penalty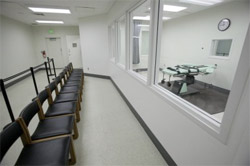 Steve Fajardo, retired Lieutenant of Police with the Oakland Unified School District, will discuss why he is voting Yes on Proposition 34, an initiative on the November ballot to replace the death penalty with life in prison without the possibility of parole.
Learn more about Proposition 34, and all the ballot measures, at Ballotpedia. The goal of Ballotpedia is "to cultivate a strong democracy(…) by building up a comprehensive almanac of information about elections, politicians and candidates at all levels of government. Voters have different values. We want all voters to have the information they need about candidates and ballot measures to cast a vote in accord with their values." -From the Ballotpedia website.
MEETING OF September 7, 2012
Welcome
President Jim Young repeated his  "R" word opening. Then recognized that due to the special nature of the meeting room and the fact that there was no voice amplification. He said more, but I couldn't hear. It was a little ironic that our noisy  room was known as "The Library".
The Pledge of Allegiance was led by Joe Bagley, and the invocation given by George Egan. Sid Chauvin offered this comforting thought: "Worry is like a rocking chair…it will keep you busy but you don't get anywhere" Rock on Sid!
Rotarians with Guests
Jonathan Lawlis brought his lady friend Darlene, who by now needs no introduction. Felix Hunziker introduced his lovely wife Audrey.
Sunshine Report
Raphael Madrigal had a brief in and out hospital visit. He's now back to work. Glad you're better!
Announcements
We were saddened to learn that Don Hardison, the most senior member of the Richmond Rotary, passed away on Monday, September 17th.Jan wrote: "Dad passed away peacefully at home with family by his side this morning.  Thank you for the notes of care.He heard them all."Information about a public memorial service for Don will be communicated to Rotary members by email when details are available.
Jim praised the success of the Solano Stroll. He thanked the 15 members that attended. 500 cards containing our Polio message and our email address were handed out. The Rotaractors (Rotary for 20 somethings, young adults between Rotary and Interact) had a great little project assembling "water testers'
Jim thanked yours truly, Alan Blavins, for graciously (his word) accepting the role of Flywheel Scribe coordinator. David Keystone is happy (David's word) to take care of December. Lynn Martin said I can sign her up for January 2013. All we need now is someone for this week, October and November. I thank all members, including currently enrolled scribes, for your consideration of this service opportunity. Jim then listed fall events, including the EC Rotary Wine Tasting fund raiser on October 21st. 2.30-5.30 at MVCC.
A Funny Thing Happened on the Way to the Rotary Conference
Nov. 2-4, 2012
WHY ALL ROADS LEADS TO ROTARY
Meritage Resort Hotel
Napa Valley
Learn more
.
Jim also reminded everyone to follow the link (box on the right) to the District Conference in Napa. November 2nd-4th. Very notable speakers.East Bay Rotaract is having a fund raiser lunch at Marica Restaurant, 5301 Collage Ave., Oakland, Saturday & Sunday. Septembar 29th-30th. Their goal is to raise $1000 for the Blue Girls Academy in Debre Markos, Ethiopia. The academy is a school for teenage girls who were orphaned as a result of HIV/AIDS.The San Pablo Rotary will host Ragin' Cajun Crawfish, Music & Fun Fest. Saturday Sep.22nd at SP City Hall. $28.00 per person.
Pam Brown told us of BARSHEEP Foundation Day celebration with "A Day-at-the-Races" Saturday, November 17th. Lunch at The Turf Club. The District Governor will be present. She then illustrated how
to get there by giving David Brown a check for $35.00. See it's that simple.
Recognitions
Jim and Linda Young celebrated their 42nd anniversary. Unfortunately, due to the less than perfect acoustics of the room (and less than perfect hearing of the scribe), other Recognitions were not recorded.
Happy and Sad Dollars
Michelle Itagaki had Happy Dollars was thrilled to see her grandchild stand and take first steps.
Jon Lawlis had Happy Dollars for Sid Chauvin secret stash of Manhattans at the stroll.
Jan Brown and Alan Blavins added $100 to the Youngstrom collection.
Josh Genser offered Happy Dollars for Point Richmond  music festival.
Rafael Madrigal had Happy Dollars for getting out of hospital, where the food "sucked!"
Norm's Nonsense
When Dan's house burned down, his first phone call was to the guy who'd sold him his homeowner's policy. "I need a check for the cash value of my house, and I need it as soon as possible," he said firmly.
"I'm afraid it doesn't work that way," explained the insurance agent politely. "See, yours was a replacement policy, which means that we'll be rebuilding the house exactly as it was before."
"I see," said Dan, after a long pause. "In that case, I want to cancel the policy on my wife.
PROGRAM
Candy Pierce updates us on campaign to end polio
Jim Young introduced  Past District Governor & Ace Rotarian, Candy Pierce. Candy udated us on the status of Polio Plus and its eradication. She was hindered by the fact that the restaurant could not project her PowerPoint presentation, "A Foundation for the Future". Being the resourceful sort, Candy soldiered on and managed fine without the tech.
Candy started by reviewing the growth of the Foundation. And what growth!
1979   3-H grants and club partnership
1985   PolioPlus campaign launched
1999   Rotary Centers for International Studies
2000   10,000 matching grants approved since 1965
2003   District Simplified Grants launched
2004   Another 10,000 Matching Grants approved
2005   Future Vision Committee begins
2007   Gates $100 Million Challenge for polio
2008   Another 10,000 Matching Grants approved
2009   Gates commits additional $255 million for $200 million challenge
In 1988 polio cases covered three quarters of the world. Today there are 131 cases in three countries. You can remember the countries with the acronym, NAP: Nigeria has 84. Afghanistan17. Pakistan 30. Rotary has a PR and outreach poster program.
Candy showed a poster on her laptop screen by walking it around. The poster show a man in a t-shirt with the slogan "END POLIO NOW" and holding up his hand with thumb and forefinger just a little apart to illustrate "We are that close". But Candy also had an image in which she'd Photoshopped in Jim Young's head. This caused much merriment. Candy pointed out that every contribution helps.
You can make a benefactor pledge, effective upon your death, of $1,000-$9,999 to Rotary. She held up her hands to show that only her pinkie fingernails were painted purple. People ask why? It's a talking point When children have been treated for polio, their pinkie finger is painted purple. This was her way spread the word about
The Rotary International Foundation is your Foundation
The Foundation addresses the greatest needs
The Foundation's world reach is greater than that of the United Nations
The RI Foundation can go where politicians and religious groups cannot.
Candy pointed out that by creating Annual Programs fund there is support for today, and with a permanent fund there is support for tomorrow.
Because Polio Plus incorporates both, it is a true foundation for the future.
-Alan Blavins, Apprentice Scribe