The Flywheel

Archive issue
NEXT MEETING: April 19, 2013
The Eastshore State Park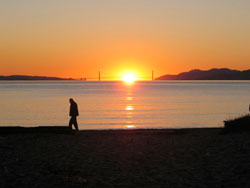 Come hear the story behind and updates about the Eastshore State Park, which came into being in December 2002 after seven years of work on the part of Citizens for East Shore Parks. The Park stretches 8.5 miles from the foot of the Bay Bridge in Oakland through Emeryville, Berkeley and Albany to Richmond (Point Pinole Regional Park and the Richmond Marina).
MEETING OF April 12, 2013
Welcome
President Jim Young welcomed the Relatively Rambunctious, Rarely Reclusive, Reasonably Respectful, Remarkably Resolute, Radically Generous Richmond Rotary Club on another beautiful day. Red Badger Heather Kulp led us all in the Pledge of Allegiance, and Stoney offered an invocation for freedom, justice and peace on Earth.
Rotarians with Guests
Jon Lawlis, Jim Young and Richard Alexander were all accompanied by their lovely wives.
Sunshine Report
Our wonderful, beloved Henry Kelman passed away this weekend after the meeting. He will be deeply missed.
Announcements
The Richmond Tales Family Festival will be Saturday April 20th at the Richmond Civic Center Plaza.

Volunteers are still needed to man/person the Rotary booth in two shifts of three hours from 10am to 4pm.
The Festival needs "haulers and fetchers". Lots of books have been donated to the Fest to be given away to young folks for free.
Alan Baer is picking up a load of 50 boxes in Concord on Wednesday, April 17, and could use help. Please see or call Alan.
Someone with a truck is needed to pick up 20 boxes of books at the Pinole Middle School Friday Morning and deliver them to the Civic Center Auditorium before the Rotary meeting. Looks like Henry Moe has volunteered but may need some help himself.
Mark Howe and Jim Young are picking up Berkeley Rotary's Canopy Booth on Saturday morning before the Festival. Help will be needed in setting up the Canopy Booth about 9am before the Festival starts. Sid has volunteered. Any others?
Volunteers at the Festival Rotary booth have a big opportunity to introduce Rotary to the public attending the Festival. Information can be provided about our Club and projects, Peace and Ambassadorial Scholars, and Polio Plus. And we can also sell tickets to the Lost Secrets play performances in May.
Over 2,000 visitors are expected to attend the Festival so there is a real need for all kinds of volunteers (friends and family members, etc.). This is a great occasion to show the Rotary flag to the Richmond community!
Here are Jim and Linda Young in the Richmond Tales cut-out intended for fun by kids of all ages at the April 20 Festival. Thanks to Jan Brown for the art work and to Joe Bagley for making the cut-out happen.
Regarding the May performances of the Richmond Tales play at the East Bay Center for the Performing Arts, there is a lot happening!

The Project Page for Lost Secrets is live. See "Discover the Lost Secrets" in the upper right corner of this Flywheel page and click on "Learn more" for all the information about the production that you'd ever want to know (bio's of the producer, director, and actors; online ticket purchasing through "Brown Paper Tickets"; an online ticket order form for blocks of tickets). For any questions about tickets, see Ticket Master, Linda Young.
There are special volunteer needs for the play at the East Bay Center. Can you or someone you know help out?

Sunday rehearsal chaperones. Please remember service above self. (Notice that Don Lau and the West County Y volunteered chaperones for Sunday, April 14.)
Costume and prop scroungers (people willing to take a list of three or four things and hunt them down in the garages and thrift stores of West County).
Costume experts like Shelly Lau, who has a special knack for finding specific period outfits.
People who can sew and alter clothing to actor sizes.
Snack providers for Sunday, Wednesday, and Thursday rehearsals.

The next Richmond Rotary Board of Directors meeting is Thursday, April 18, noon to 1:30pm at La Revolucion, upstairs.
BBQ and Party April 27 at Mark Howe's home, 3pm to 8pm, with Stoney, Joe Bagley, and Richard Alexander all playing important parts. (Admission only $50 for those not previously on the list by way of the Christmas auction.)
Mark your calendars for Cinco de Mayo, which coincidentally occurs on May 5. There will be a parade and a Rotary booth selling Lost Secrets tickets, Richmond tales books, and water. More info as it develops.
Recognitions
Happy and Sad Dollars
Erle Brown was sad to write his GD tax bill, and he wouldn't mind so much if the dummies in Washington weren't squandering it away!
Tom Waller was happy to have been blown away by the Every 15 Minutes presentation at Concord High School and hopes it is taken up at Richmond High School.
Joan Davis was happy about the best ever youth summit this year, and has a great vehicle for Erle to alleviate his taxes this year!
David Brown's sister is cancer free a year after her bone marrow transplant!!!
Henry Moe had 5 happy dollars, one for every Rotarian signed up so far for the Salesian Golf Tournament.
Mark Howe was sad about Henry Kelman, who had turned out to be one of his best friends.
Don Lau was glad the YMCA would be renamed the E. M. Downer Family YMCA.
Norm's Nonsense
Some ponderisms.
If 4 out of 5 people suffer from diarrhea, does that mean one out of 5 enjoys it?
Why is a person who plays the piano called a pianist but a person who drives a racecar not called a racist?
If Fed Ex and UPS were to merge, would they call it Fed UP?
PROGRAM
Heather Kulp and Her Career in Africa
As her "Who am I?" presentation, our own Heather Kulp delivered a fascinating account of her time in Angola over 10 years ago. She worked for an organization that rebuilt communities affected by conflict. "Yes", she told us, she did have a life before Chevron! Her important work focused on great projects, including resettling child soldiers and enabling communities to come together after decades of conflict.
It is hard to tell looking at her today, but there was a time when her gender was in some question – at least by the natives! In very traditional sections of Angola, on the African southwest coast, the bushman in the south had very little experience with white people, and were confounded that a woman could wear a top! Those bushman are indeed traditional, and in fact the oldest people in Africa.
When Heather arrived in Angola, the decades-old war was just wrapping up. The infrastructure was decimated and the people exhausted. Clearly, the work Heather and her colleagues did there was immensely important to those who needed help the most, and very much in the Rotary spirit!
Pinch-Hitting Scribe, Josh Surowitz