The Flywheel

Archive issue
NEXT MEETING: December 16, 2016
An open-ended conversation
This week we will forego the usual program to spend more time with our Richmond Rotary friends and enjoy an open chat. Topics are wide open. They can include a discussion of great things we used to do and may want to revive, or ideas for new kinds of social events, or an innovative project someone may suggest, or…
ANNOUNCEMENTS
No meeting on Friday, Dec. 23rd
No meeting on Friday, Dec. 30th
Friday, Jan. 6th is first meeting of New Year.
David Hammer's (El Sobrante Rotary)/District 5790's 8-day Los Puentes/Honduras Water Project has been postponed. A new date sometime after February 2017 is forthcoming. If you would like to participate in or want more information about this project, please contact David Hammer at davidhammer45@gmail.com ). More information.
MEETING OF December 9, 2016
Welcome
Last Friday a small but spirited contingent of our club met at the Richmond Art Center to enjoy cocktails and camaraderie. We simply welcomed one another, which was more than enough. World problems were brought up and solutions found. We uncorked no more bottles than we consumed, which, again, was more than enough. And maybe we raised enough money to pay for the excellent hors d'oeuvres and staff to serve them. All in all a very nice time.
Recognitions and Happy/Sad Dollars
Despite everything, we all recognized one another and one another's partners. We repeatedly drank to that fact so all dollars spent were happy ones.
Norm's Nonsense
Program
Holiday Auction, December 2nd. A recap.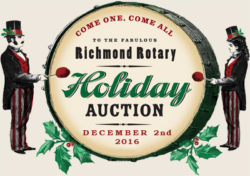 Live and silent bidding distributed an embarrassment of riches to the highest bidders: trips to Mexico, events, vacation homes, restaurant gift certificates, tours, wine, and many other exciting offerings. Thanks to the tremendous generosity of our members and their guests, our club raised some $35,000. The money will help fund local and international projects, including support for local schools and non-profit organizations. Members of the Richmond Fire Department walked out with a sleigh full of donated toys for their toy drive. One firefighter—sorry, we missed recording his name—auctioned off what promises to be an amazing firehouse dinner, raising still more money for bikes for kids.
Thanks to all of you for attending and contributing. You are all humanitarians!
Best wishes for the New Year!
- Nick, pinch-hitting scribe