NEXT MEETING: February 14, 2020
Transforming a Historic Landscape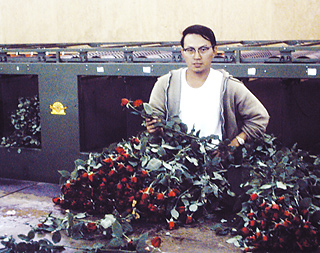 On this Valentines Day, we are celebrating the many years that David Ninomiya would bring red roses to Rotary on Valentines Day from his family's nursery in North Richmond.
Join us for a presentation by Donna Graves and Alan Wolken that will focus on the Miraflores development and interpretation project there that highlights the rich story of Japanese American nursery families alongside aspects of Richmond community history.
Announcements
Pierre Thompson announced Richmond Rotary's Centennial launching of Rotary's Four-Way Test student essay contest for Richmond-area high school students. (For details see this flyer.) The three essay finalists will be invited to present their essay and receive their reward as our club program on Friday, March 27. This program will coincide with a visit from student ambassadors from Richmond's Sister City of Shimada, Japan.
If you haven't done so already, please mark this important event on your calendar now: April 4th, the date of our our club's Centennial Celebration. Visit the Centennial Celebration page to see what we have planned. You can also purchase tickets on that page. We've sent this Save the Date reminder to scores of longtime supporters of Richmond Rotary so plan to see some old friends and maybe make some new ones.
Special Event
Richmond Rotary is pleased to welcome two new members:
Alexandra Wilson, Attorney/Owner, Wilson Immigration; and Melinda McCrary, Executive Director of the Richmond Museum of History and Culture. We are proud to have you join us!
The Rotary District 5160 Conference will take place in Redding, on May 1 – 3. For more information and to register, please visit this Conference web page.