The Flywheel

Archive issue
NEXT MEETING: March 8, 2013
Lead Like Lincoln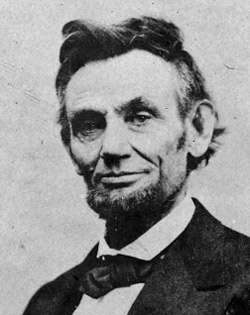 This Friday's speaker, Arnold Kunst, will tell us how Lincoln's leadership style, which forged a 19th century victory when victory was anything but certain, can be emulated by the harassed 21st century business and professional community.
Mr. Kunst, who holds an M.A. in history, has fine-tuned his speaking skills with Toastmasters International. His Lincoln presentations, as well as his recently published Lincoln 365, arose out of an award-winning speech entitled 'Lincoln Was a Loser.'
MEETING OF March 1, 2012
Welcome
President Jim Young called the meeting to order on a beautiful, sunny day at the Richmond Country Club. Dan Tanita had the honor of leading us in the Pledge. Stoney gave us the invocation and there was no Thought for the Day. We missed you Henry!
Rotarians with Guests
Mark Howe had as his guest Germana Maci, Prez Jim's guest was wife Linda, and Alan Baer introduced Marin Trujillo, Community Engagement Coordinator for WCCUSD, who was representing Bruce Harter.
Sunshine Report
It was good to see Bill Kozial who did not have a report. Hank Covell reported that John Nicol was doing well and always looks forward to a phone call from Rotarians.  David Brown expressed concern for Erle Brown's liver.  Prez Jim let us know that he cannot see out of his right eye…so everybody took advantage of his blind spot.
Announcements
March 15 is a big day for the Club. From 9am-12noon Mark Howe will be coordinating giving our Rotary Peace Garden a face lift and some new dirt. St Patrick's Day BARSHEEP Celebration will take place that night. Still time to sign up!
The Pinole and El Cerrito Rotary Club will be having Past DG Cliff Dochteman as a special guest  on 3/21.
Richmond Tales Family Fest is on April 20th. Our Richmond Rotary Club will have a booth and will participate in the event.
Special Events
Marin Trujillo was introduced and asked to speak about the book "Richmond Tales." Marin gave a very compelling overview of what the book the book has meant to him and to the students in the school district. It has given students a sense of pride in the rich history of Richmond spanning the days when the Native Americans lived in the area, to the WWII boom, the Civil Rights movement and on into the future. It is written from the point of view of two children a boy of Mexican decent and a girl who is African American. There is excitement in the community about the book becoming a play "Lost Secrets of the Iron Triangle" through the efforts of our Rotary Club.
Recognitions
Happy and Sad Dollars
Michelle Itagaki had stories of pain pills and a great Public Library Foundation speaker
Alan Baer was happy he and his daughter got another chance to plant some trees
Hank Covell had some very happy dollars for being a part of the Bob Miller Memorial Poker Tournament that he celebrated with 10 others in Reno including Dave Calfee
Raphael Madrigal is taking his turn to be part of the Rotary Exchange program to Mexico
Herb Cole was sad that his 95 year old mother fell and broke her hip (give her our best wishes for a speedy recovery)
Stoney was happy that Mayor Bloomberg of NYC was donating $100 million to fight polio, but sad that he made no mention of Rotary
Prez Jim had only good news about his 3 children and their professional pursuits
Joe Bagley was happy to see Sid and glad he was off to Mendocino next week
Sid Chauvin was sad to announce that Little Opie (AKA Ron Howard) is 59 years old. Geezer!
Norm's Nonsense
You know you are getting old when ….
– You can live without sex but not your glasses.
– Your investment in health insurance is finally beginning to pay off.
– Your secrets are safe with your friends because they can't remember them either.
PROGRAM
Coming to a child's mind near you: the Bay Area Storytelling Festival
Michelle Itagaki had the privilege of introducing our speaker Jean Ellisen, a trained storyteller, who was at our Club to help promote the Bay Area Storytelling Festival which will be held at the Craneway Pavilion in Richmond on May 18-19.
On May 17 they are having a Study Trip day when students from local schools can come to the Craneway to learn about storytelling. The cost is $350 to sponsor a class to attend so if anyone is interested sponsoring a group you can contact Jean at jellisen@sbcglobal.net Jean shared the impact that storytelling can have in enriching the lives of the young and old. Jean used storytelling to get her adopted son to learn more about his new community through the eyes of a dog named "Gonzo." Jean does work with a number of local schools and emphasized that the best way to learn about one's family history is through asking elders to tell stories about the past. If you were not there you missed Rafael Madrigal's Urban Legend story about the "White Witch of Wildcat Canyon" Ask him about it some time.
The Menehune, Rotating Editor