Improving Lives in Faraway Places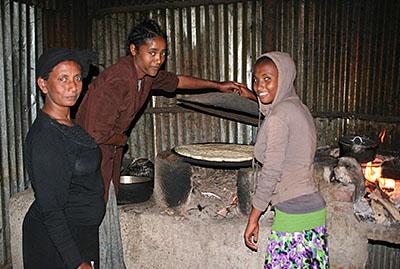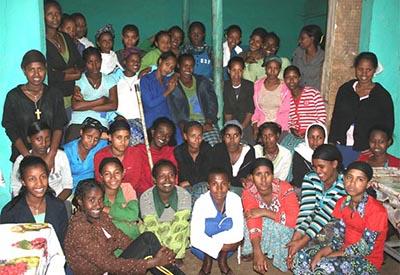 The current kitchen and a group of girl students, in a school in Debre Markos, about 190 miles northeast of Addis Ababa, Ethiopia.
As we start this new Rotary Year, I'd like to take the opportunity to update you on last year's international projects undertaken by our club and our plans for this year. Let's start with the international projects on tap for this year. The biggest and perhaps the most exciting international project for our club this year is funding the construction of a kitchen at Menbere's school for girls in Ethiopia.  We have made a contribution of $15,000 for this project which includes $10,000 in club funds, $5,000 in direct donations from some of our club members and a $1,000 donation from Berkeley Rotary.
The construction materials have been purchased except for the cement which is in short supply in Ethiopia.  Once it becomes available, the actual work can begin.  I will keep all of you posted on the progress on this project.
The Ethiopia project is very important to our club since it benefits orphan girls, supports a school founded by one of our members, and has received direct donations from our members, including Josh Genser.
The second project involves the installation of solar panels on La Prepa High School, a high school near the town of Chacala in Mexico.  We helped fund the retrofitting of an old tobacco shed to a high school, a huge project involving multiple Rotary Clubs organized by Berkeley Rotary.  Our club was involved with this project making a cash donation and having some of our members work on the project.  We were also contributed to the creation of a computer lab, science lab, culinary school,  and the construction of teacher housing.  Many of our members, including yours truly, had the opportunity to work on these projects.
This solar project is being is being funded by a contribution of $4,000  from our club which includes a mix of club funds and donations by individual club members.
Last year our club contributed $3,500 for drilling a well and piping water to a village in Juticalpa, Honduras.  Organizers initially originally envisioned Rotary members travelling to Honduras to work on the project but Covid quashed that idea.  I received a report confirming that the well was successfully drilled and work on the water delivery part will commence soon.  I'll update you with status reports as I learn more.
Last year we also made a $525 donation to support a telemedicine project in Monterey, Mexico.  Our club has been involved in international projects in Monterey for many years so this was a continuation of a pattern that has existed for a very long time.
Also last year, we contributed $1,000 to the Ten for Girls project in Kenya, developed by our District.  Many young girls in this area miss twenty percent of their school days due to a lack of sanitary pads. The funds raised by District 5160 were used to fund community efforts to make useable sanitary kits so the girls would  not miss school.
Last year was a great year and this year looks like it is going to be even better.  If you are interested in joining the International Committee, please contact me.  We would love to have you join us.
Norm Lundberg
International & Grants Committee